Distances:
From Katherine: 28 km | 30 m
From Edith Falls: 90 km | 1 hr 20 m
From Darwin: 345 km | 3 hr 45 m
From Alice Springs: 1,210 km | 13.5 hr
Katherine Gorge is the main attraction in Nitmiluk National Park. The gorge was carved through ancient standstone by the Katherine River. Katherine Gorge is really a series of thirteen gorges with rapids and waterfalls. The 58 km (five day) Jatbula trail follows the gorge all the way to Edith Falls. Cruises go as far as the fifth gorge.
Stop at the Nitmiluk Visitor Centre to learn about the cultural and spiritual significance of Nitmiluk (Katherine) Gorge for its traditional owners. There are many Aboriginal rock art paintings on sandstone walls of the gorges, some of them dating back thousands of years.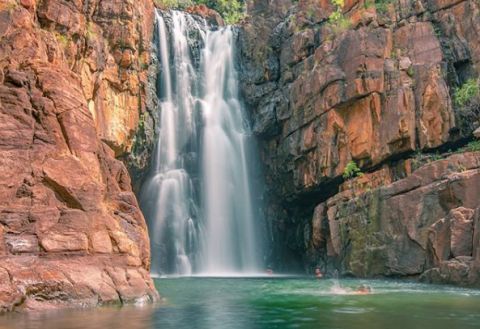 Southern Rockhole, Katherine Gorge. Photo: tulip.xo via IG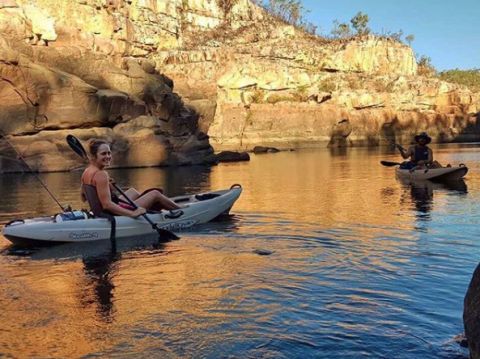 Canoeing through Katherine Gorge. Photo: Al3xandra_xu via IG
Safe for swimming?
During the dry season (April to October) the waters are placid and safe for swimming and canoeing. You'll see freshwater crocodiles sunning themselves on the banks but they won't kill you. Saltwater crocodiles will kill, and do. They can drift in with the floodwaters of the wet season. During this time, (November to March) it is not safe to swim in Katherine Gorge. Saltwater crocodiles are located and removed each year at the onset of dry season. The Northern Territory Government has a page on safe swimming with guidelines on where you can and can not swim.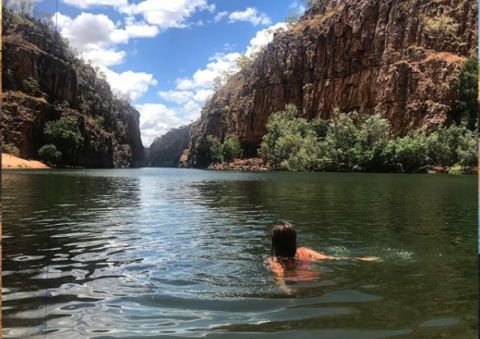 Swimming at Butterfly Gorge. Photo: yasmosis13 via IG
Windolf Walk
The Windolf Walk climbs to Pat's Lookout for sweeping views of the gorge and on to Southern Rockhole (8 km return), which has a waterfall after the rain.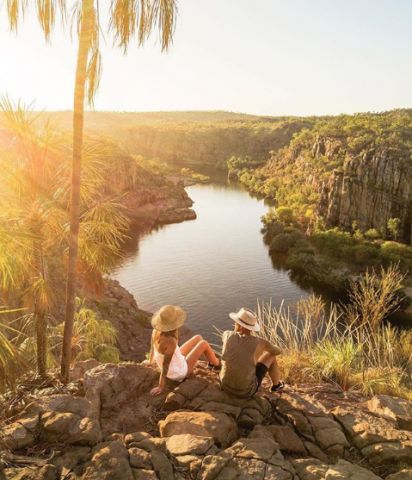 Looking across Katherine Gorge. Photo: naturentravel21 via IG
Butterfly Gorge
You can paddle through the narrow sandstone walls of Butterfly Gorge. It is quiet and shaded here, and home to thousands of butterflies.
Katherine Gorge Camping
The Nitmiluk Gorge Caravan Park is right by the Nitmiluk entrance. It is grassy and shady with a resort style swimming pool. Facilities include toilets, hot showers, laundry, free gas BBQs, camp kitchen with refrigerator, tables and chairs, free WiFi, ice and gas refills.
RATES: Adults $20, children $11.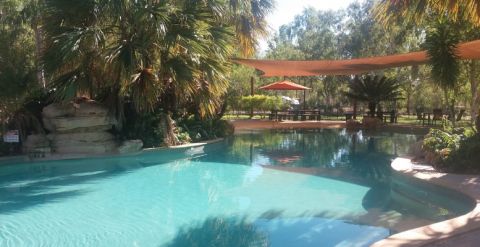 Nitmiluk Gorge Caravan Park. Photo: tripadvisor
Savannah Way Map
This is part of the
Savannah Way
(Cairns to Darwin) road trip and the Darwin to Adelaide road trip. The map below has highlights of the Savannah Way highlights. Zoom in to locate the highlights and camping of Edith Falls.

Road Trips From Darwin & Adelaide