Distances
From Edith Falls: 260 km | 3 h 20 m
From Darwin: 108 km | 1.5 h
From Katherine: 255 km | 2 hr 45 m
Litchfield National Park is known for its waterfalls and swimming holes set amidst monsoon rainforest. Towering termite mounds dot the open woodlands and the night sky shimmers with a billion stars.
Termite Mounds
About 17 kilometres from the eastern boundary of Litchfield National Park you'll come to the first major group of termite mounds. A viewing area with boardwalks has been built just off the Litchfield Park Road. Follow the boardwalks to get close to the two metre high, thin Magnetic Termite Mounds, and the four metre high Cathedral Termite Mounds – known as the 'skyscrapers' of the animal kingdom.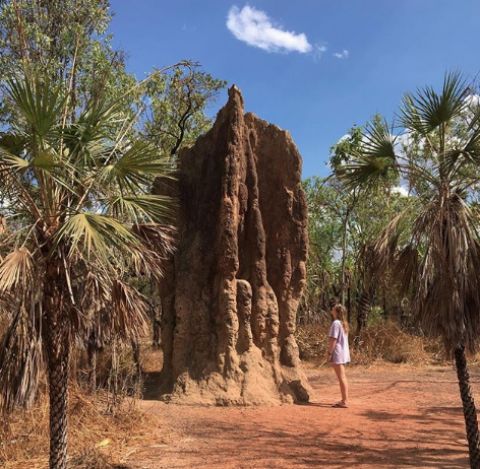 Cathedral Termite mound. Photo: linsaymitchell via Instagram
Magnetic Termite Mounds
These slab-like mounds stand like enormous tombstones in outback grassland and are an engineering marvel. The thin edges point north south so that the broad eastern and western faces receive the morning and afternoon sun, while the narrow edge of the roof avoids receiving the midday sun when the nest might overheat.
This keeps the inside of the mound a stable temperate with high humidity – just the way the termites like it. During the summer floods, the termites stay safely inside feeding on their stored food. In the dry season, when the water drains away, the termites gather the drying grass and other plant material to store as hay in chambers in the mound ready for the next wet season.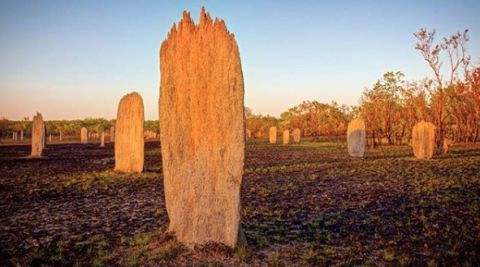 Magnetic termite mounds. Photo: captaingrumpy via Instagram
Buley Rockholes
Buley Rockhole is a series of waterfalls and rock-holes in wooded grasslands. Explore and find your own personal waterhole to relax in. It is open all year and there is camping nearby at Florence Falls with toilets but no showers. Keep on to Wangli Falls Camping if you want hot showers.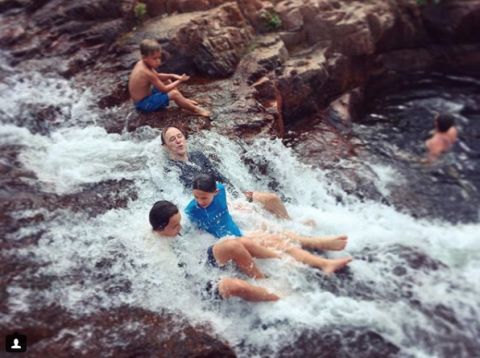 Buley Rockholes. Photo: veronicasavetrie via Intagram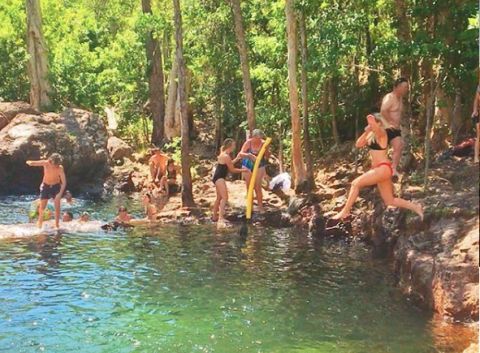 Buley Rockpools. Photo: jessicasbond via Instagram
Florence Falls
Two spectacular waterfalls plunge over the cliffs into the large swimming hole below. The pool is fringed with monsoon rainforest and the water is cool and clear.
An easy 3 km walk from the car park will take you to a lookout above the falls for panoramic views of the surrounding valley and the falls far below. The gorge rim walk will take you down stairs to the valley floor and plunge pool. The Shady Creek walk loops back via a stream through rainforest and woodlands to Florence Creek.
Florence Falls has picnic facilities, toilets and a camping area (see below).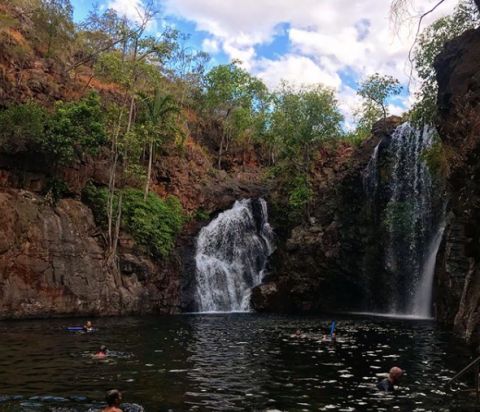 Florence Falls. Photo: izzieludbrook via Instagram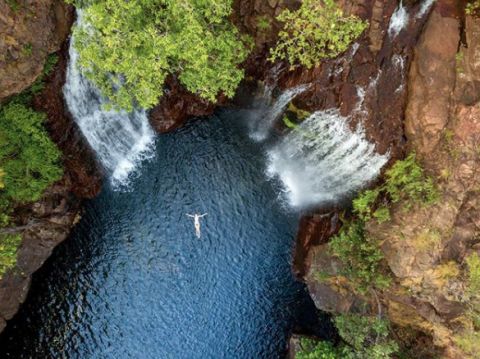 Florence Falls. Photo: windancethevan via Instagram
Tjaeteba Falls
Tjaeteba falls (sometimes called Upper Cascades) is a much smaller and quieter waterfall than Florence. The wide cascade falls into a perfectly circular swimming hole before cascading over another rocky slope. You can swim surrounded by woodlands while enjoying panoramic views from this natural infinity pool.
Getting here involves a short and pretty walk along Greenant Creek. Tjaeteba Falls has picnic tables between Greenant Creek and the car park.
Please note - Tjaetaba Falls and the area below them is an Aboriginal sacred site. Please respect the custodian's wishes and only swim above the falls.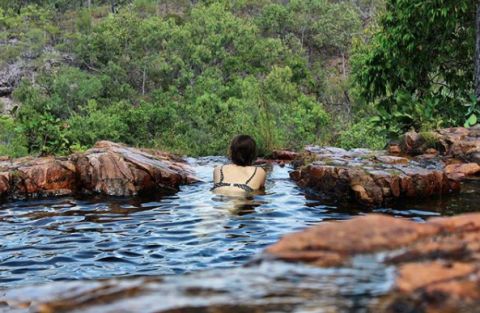 Tjaeteba Falls, Litchfield. Photo: dr_tv via Instagram
Wangi Falls
Wangi Falls is the best-known and most popular swimming hole in Litchfield National Park. Two waterfalls cascade over the rocks into the large plunge pool below.
Wangi Falls are reached via an easy walking track from the car park, through lush monsoonal rainforest and the plunge pool is surrounded by the manicured lawns of the picnic area. There is a cafe, camping ground (see below) with hot showers and barbecues nearby.
There are plenty of walking tracks, including a three kilometre loop that climbs up over the falls and back down to the car park.
The falls can be closed to swimming during wet season (October to March) when fast flowing waters and currents can be dangerous. But this is when the falls are at their most spectacular for photographers. The kiosk and picnic facilities stay open year round.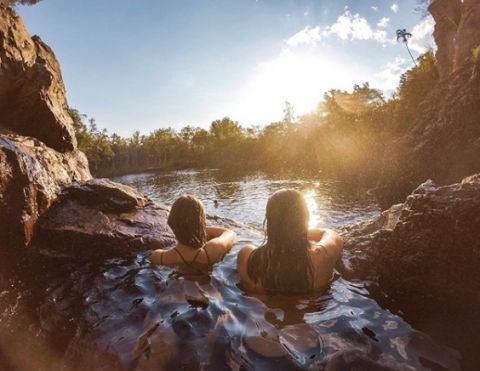 Natural Infinity Pool. Wangi Falls. Photo: hilaryeddy via Instagram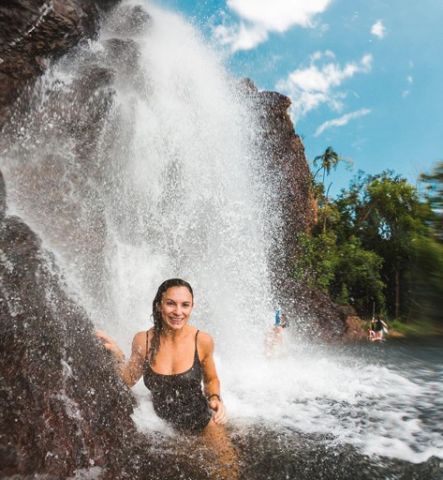 Wangi Falls, Litchfield. Photo: larleeanne_x via Instagram.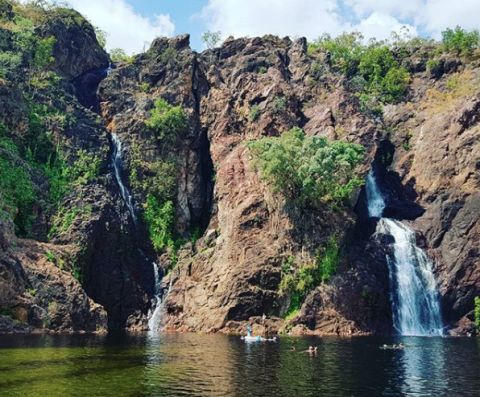 Wangi Falls. Photo: flex_your_head22 via Instagram
Litchfield National Park Camping
Florence Falls Campground
Located right near beautiful Florence Falls, facilities include toilets but no showers.
RATES: $3.30 per adult. $1.65 per child. $7.70 per family (2 adults, 4 children).
Wangi Falls Campground
Located right near beautiful Wangi Falls, facilities include toilets, hot showers, kiosk, rubbish bins, picnic tables and BBQs.
RATES: $6.60 adults, $3.30 kids, $15.40 per family (2 adults, 4 children)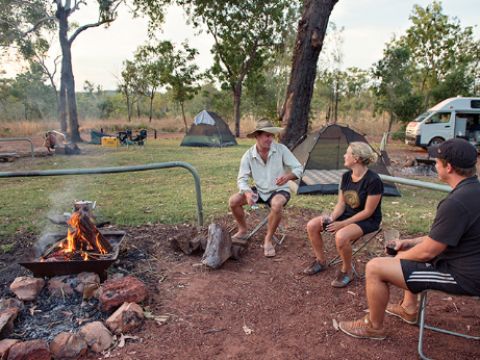 Wangi Falls Camping.
Savannah Way Map
This map includes highlights of the entire Cairns to Darwin drive. Zoom in to Litchfield to see where the highlights and campgrounds are located.

Connecting Road Trips