The Mataranka Thermal Pools and Bitter Springs are both located in the Elsey National Park. It is safe to swim here and the springs are a perfect 34 degrees Celsius year 'round. The rest of the National Park waterways are crocodile habitat, so no swimming. There are some great places to stay here for the night so you can wake up and enjoy the springs again or explore some of the walks.

Mataranka Caravan Park and Camping
1. Jalmurark Campground in Elsey National Park has grassed sites, toilets, hot showers, BBQs and picnic tables. You'll hear wild donkeys calling in the morning and evening.
RATES: $6.60 per adult. $3.30 per child.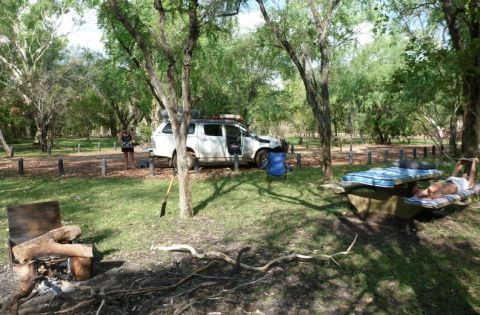 Julmurark Camping. Photo: outbackjoe.com via IG
2. Bitter Springs Cabins and Camping – a spacious campground on the banks of Little Roper River in a natural bush setting and right next door to Bitter Springs Thermal Pool. You can choose your own spot. Fires are allowed. Facilities include bore water from taps, toilets, showers, camp kitchen and laundry.
Rates: Unpowered sites $30 for two. Additional adults $10. Kids $5.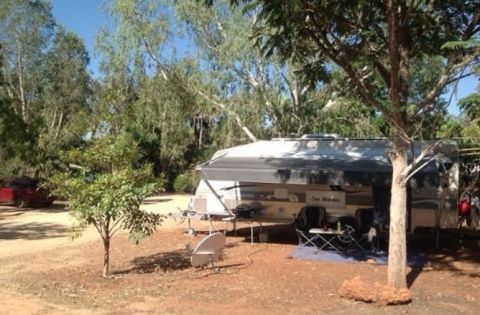 Bitter Springs Cabins and Camping
Free Camping
King River Rest Area is 58 km (45 min) north west of Mataranka on Highway 1. There are a few shady trees. Facilities include fire pits, sheltered picnic tables, toilets and tap water (not for drinking unless boiled) and a dump site.
---
This is part of the Savannah Way road trip across the top end of Australia which is mapped below. Zoom in to locate the highlights and camping of Mataranka Hot Springs.