Distances:
Camooweal: 471 km | 6 h
Mataranka Hot Springs: 567 km | 7 h
Alice Springs: 506 km | 6 h
Things to do in Tennant Creek
Tennant Creek is the only town of any size between Mount Isa and Katherine if your crossing the top of Australia from Cairns, or between Katherine and Alice Springs if you're heading down through central Australia between Darwin and Adelaide. It sits about half way between these larger towns making it a convenient stopping off point to break up those long drives. Almost half of the population is of Aboriginal descent and there are opportunities to see some Indigenous art while you are here. There's an IGA supermarket in Tennant Creek so stock up.
Julalikara Council is a cooperative where you can watch Aboriginal women creating their art.
FREE


Nyinkka Nyunyu Arts and Cultural Centre - (pronounced Ny-inka Ny-oo Ny-oo) Here you can learn about Aboriginal life, culture, history and the lands around Tennant Creek. the exhibition is in five sections and the history includes the story of hour the Aboriginal people reclaimed their land. Entry to the gardens and cafe is free.
RATES: A guided tour of the gallery is $15.


Desert Harmony Festival is a five day cultural extravaganza that happens in Tennant Creek every August.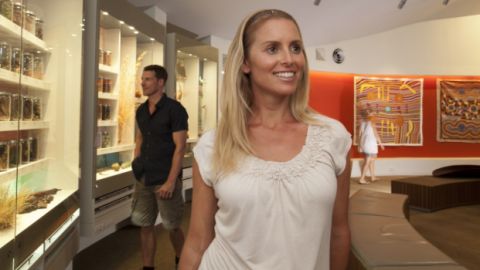 Nyinkka Nyunyu Arts and Cultural Centre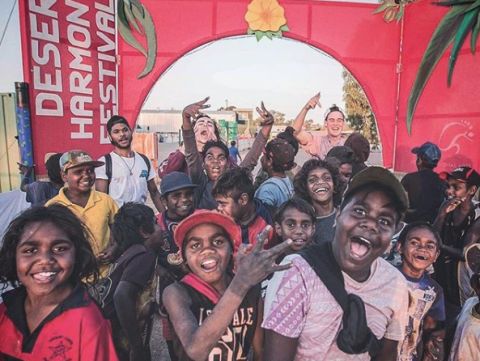 Desert Harmony Festial. Photo: bennybucho via IG


Tennant Creek Telegraph Station - was once a remote refuge and supply point for travellers. You can wander around the reserve exploring the historic station buildings made of local stone. While it was operating, supplies to the Telegraph Station arrived by camel. If you wish to explore the historic buildings, a key is available from the Battery Hill Visitor Centre on Peko Road. A self-guided walk information sheet is available on-site.
FREE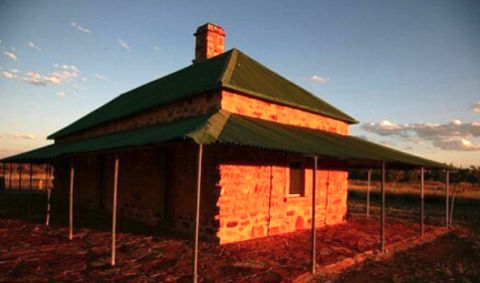 Tennant Creek Telegraph Station. Photo: michaeljbarritt via IG

Lake Mary Ann is an oasis of green with roaming peacocks on the banks of a man made lake. It has short walks, is safe for swimming (no crocs), and has sheltered picnic tables, BBQs, and toilets.
FREE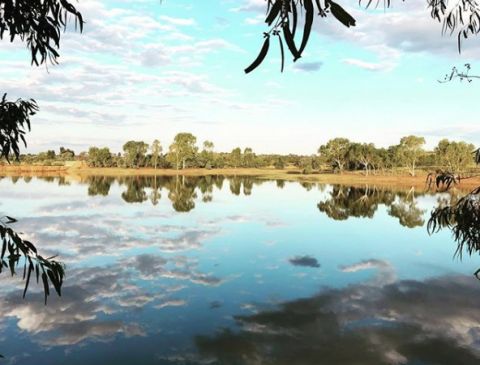 Lake Mary Ann, Tennant Creek. Photo: mslisamonique via IG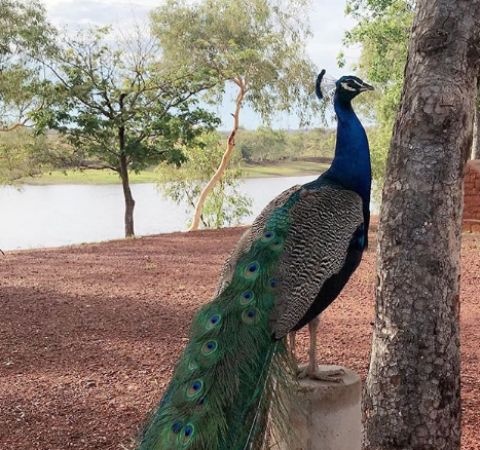 Peacocks at Lake Mary Ann. Photo: cherbieee via IG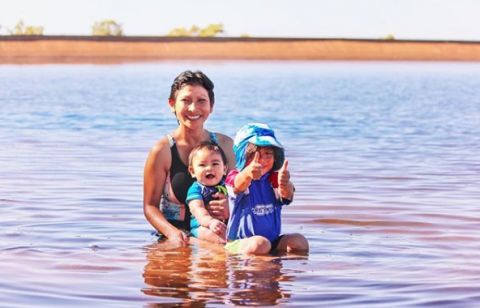 Lake Mary Ann. Photo: postcardsfromourcaravan via IG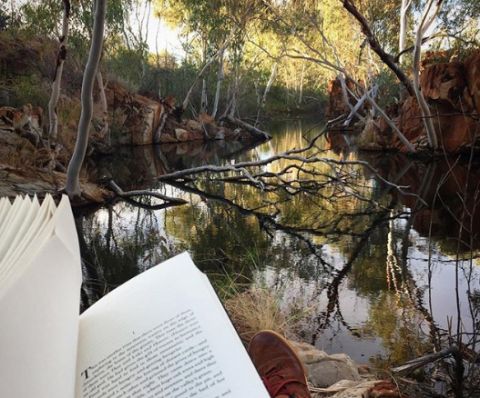 Lake Mary Ann. Photo: Oscariuss via IG


Devils Marbles
Devil's Marbles are 95 km (1.5 hr) to the south, on the way to Alice Springs. It's worth making the detour for. Hundreds of red granite boulders are scattered across the plain. The best time to visit is at sunrise and sunset to get the best colors. You can learn about the Dreamtime story of the boulders on an interpretive walk through them.
FREE
Explore the region on horseback at Kellys Ranch. Local Aboriginal landowner and horseman Jerry will share stories of a stockman's life over tea and damper.
RATES: $50 for an hour.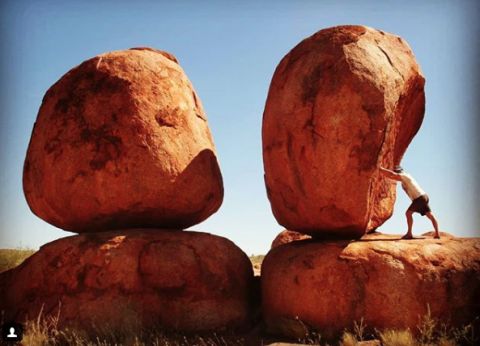 Devils Marbles. Photo: ben_et_titi via IG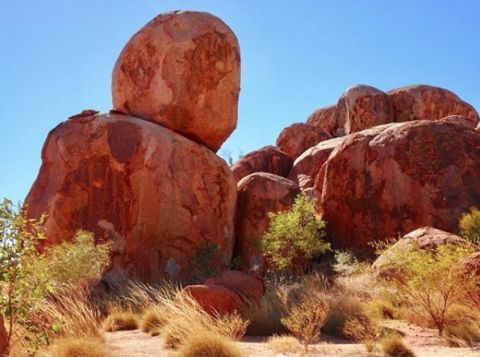 Devils Marbles. Photo: pixellandysr via IG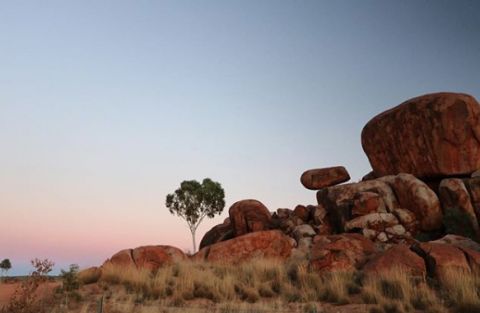 Devils Marbles. Photo: s.w.a.t_sj_fx1 via IG
Tennant Creek Caravan Park
Outback Caravan Park is at the edge of town. Facilities include a swimming pool, shady trees and gardens, bar, café, free WiFi, camp fire, camp kitchen, BBQs, laundry, dump point, minimart, and LPG gas swap.
RATES: Unavailable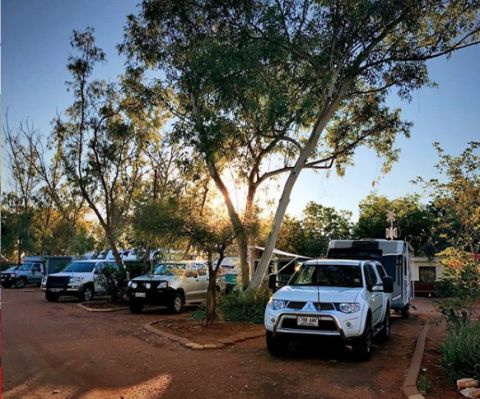 Outback Caravan Park, Tennant Creek
Free Camping
Attack Creek Rest Area is 72 km (1 hr) north of Tennant Creek. Facilities include toilets, fireplaces, picnic tables, shady trees, and rainwater (not suitable for drinking).
---
Daly Waters Pub
If you're heading north for Darwin, and you leave Tennant Creek by 8 am, you'll reach Daly Waters Pub by lunch time. It's an iconic outback pub from the 1930s. It's draped in bras and the walls are lined with all sorts of items from visitors who want to leave their mark.
The pub has seen murders, shoot outs, cattle stampedes and drunken brawls in its past. The bath tub and rail are still there to hitch your horse to, so your horse could enjoy a drink while you did.
Haunted
Heavy objects sometimes fly about in the kitchen and it isn't the chef. The owners believe it is Sarah, the woman who was murdered at the pub. Her husband was pardoned because he said she was having an affair with the gardener. Or maybe it is the postmaster, who was murdered here and his takings stolen. The suspect moved away and committed suicide many years later.
Thy have won awards for their food if you fancy stopping for lunch, or just grab a cold beer or glass of wine. They have a reasonable selection.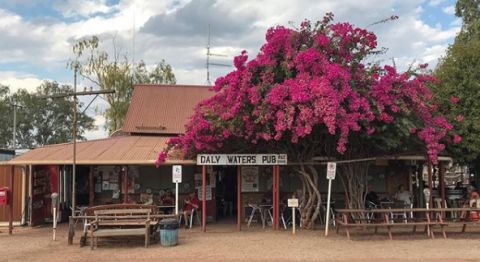 Daly Waters iconic outback pub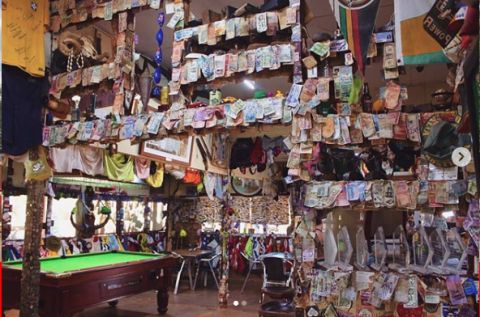 Inside Daly waters Pub. Photo: emi.sherwood via IG
---
This is part of the Savannah Way road trip across the top end of Australia. Zoom in on the map below for the highlights and caravan parks listed in this article.

Road Trips From Darwin & Adelaide