Whyalla
Lincoln National Park to Whyalla
296 km | 3.5 hr
Once known as Hummocks Hill, Whyalla is the third most populous city in South Australia. It has a steelworks and ship building history, but is now famous for its population of giant cuttlefish.
You'll find petrol stations, supermarkets and a good caravan park here as well as fun things to do.
Everything mentioned in the article is mapped at the end.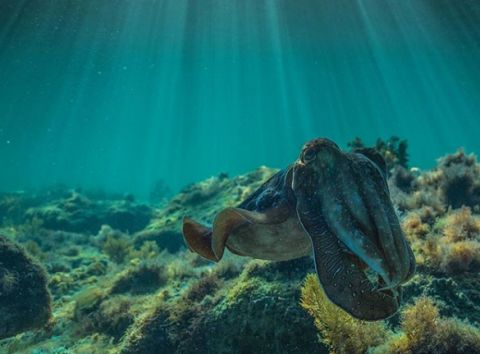 Giant cuttlefish. Photo: drchrisbrown via IG
Things to do in Whyalla
Swimming with Giant Cuttlefish
Since the '90s divers and snorkelers have been swimming with giant cuttlefish during the annual migration to the shallow waters north of Whyalla from May through August. The best places to see them are Black Point, Stony Point and Point Lowly. Boardwalks give you easy access to the waters edge. The water is waist deep so you can walk out with your mask and snorkel, put your face in the water and watch them!
You can also swim with leafy sea dragons, dolphins and other cephalopods besides the cuttlefish.
Whyalla Diving Services offers tours ($125 per person) or will rent you snorkel equipment ($75 for 2 days) or scuba gear.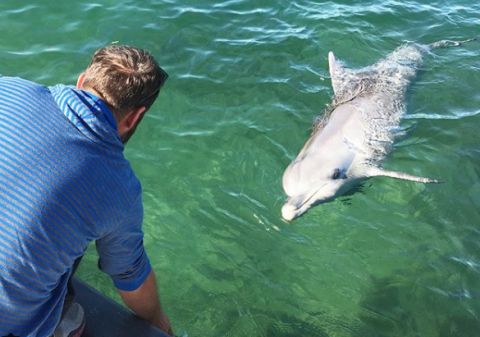 Friendly dolphins. Photo: thinkwearelost via IG
Other things to do include:
Drop into the Visitor Centre at the Whyalla Maritime Museum to grab maps and brochures of things you'd like to do.
A guided tour of HMAS Whyalla, a retired WWII-era corvette, through the Whyalla Maritime Museum. They Museum has various displays commemorating the towns ship-building history as well as a train diorama and models of various ships.
Whyalla Wetlands has 2.5 km of walking trails to enjoy.
Ada Ryan Gardens is a beautiful space of shady lawns and trees, free BBQs, picnic tables, bird aviaries, free tennis, beach volleyball, toilets and a children's playground.
Walk to Flinders and Freycinet Lookout to get a bird's eye view of the town.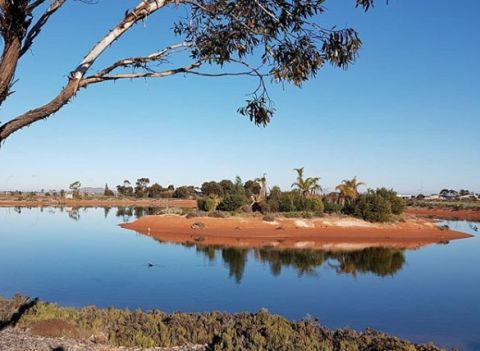 Whyalla Wetlands. Photo: lillipondvia IG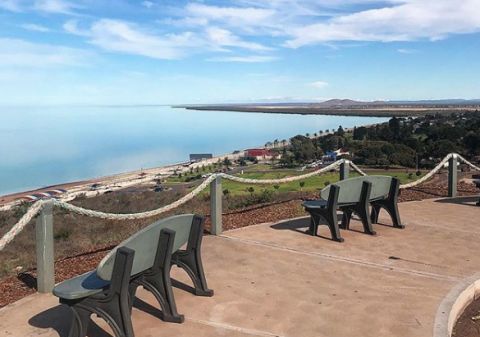 Flinders and Freycinet Whyalla. Photo: cdenholm13 via IG
Whyalla Caravan Parks
Whyalla Foreshore Caravan Park is located on the coast. The campervan sites are powered and right on the beach. Facilities include WiFi, an activities room, BBQ, bouncing pillow, camp kitchen, dump point, family bathroom, equipment hire, store, laundry, playground, sports facilities and water activities.

RATES: $35 for two people. $15 per additional adult.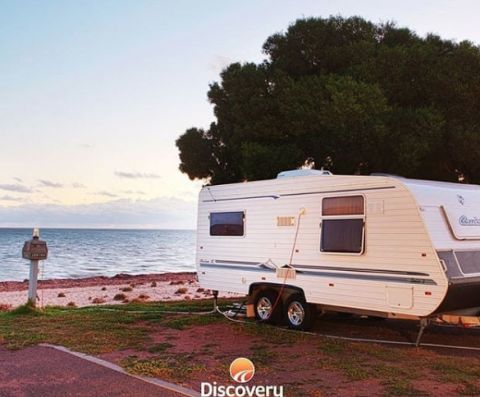 Whyalla Foreshore Caravan Park.
Whyalla to Adelaide
384 km | 4 hr and 45 m
Map of the Perth to Adelaide Drive
Look for the purple tags to locate the highlights mentioned in this article.
Western Australia Road Trips