Cairns to Cooktown
328 km | 4.5 hr each way | 2 days
The drive to Cooktown veers inland through arid plains before swinging back out to the green coast. Stop at the Lion's Den for a drink a meal or to camp for the night. It's a quirky place where you'll meet some locals.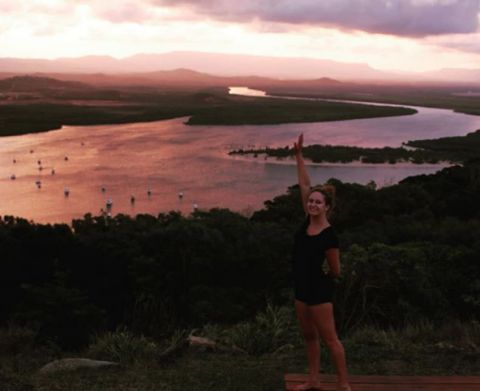 View from Grassy Hill lookout. Photo: Kathiii_str via Instagram
Captain Cook
Cooktown itself has a fascinating history. It was here that Captain Cook's damaged ship the Endeavour limped into harbour. He and his crew spent seven weeks here. The botanist Joseph Banks collected and preserved over 200 new species of plants while they were here and artist Sydney Parkinson was the first British artist to draw Aboriginal people from direct observation. Joseph Banks met and spoke with the local people, recording about 50 Guugi Yimithirr words, including the name of the jumping animal they called gangurru, which banks transcribed as "Kangaru". The first recorded sighting of kangaroos by Europeans was on Grassy Hill. It was an eventful stop over for them.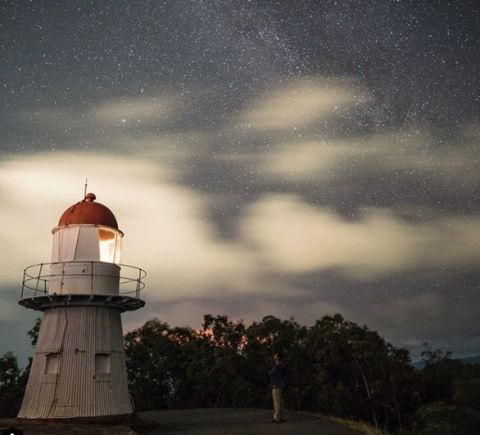 Grassy Hill at night. Photo: dipopescu via Instagram
Cooktown is small and everything can easily be reached on foot.
Things to do
Learn more about this history at the excellent Captain Cook Museum. You could easily spend a few hours here.
Wander around town reading plaques and memorials to glean more of the town's history.
Climb to the Grassy Hill Lookout where Captain Cook once stood to plot his way through the reef.

Drive to Trevathan Falls.
Wander through Cooktown Botanic Gardens. Marked trails lead to two beaches.

Cooktown's Captain Cook Museum. Photo: littlevancrew via Instagram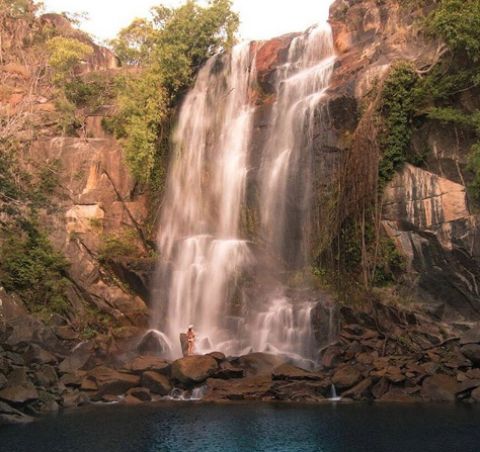 Trevathan Falls near Cooktown. Photo: mitch.toft via Instagram
Cooktown Caravan Parks
Cooktown Caravan Park
Is a new Caravan Park located at the south end of town. It is quiet, shaded by trees and surrounded by Mount Cook national park. Facilities include free WiFi (download limits), Camp kitchen, hot showers, laundry, Courtesy bus from town clubs, central fire pit and swimming holes.
RATES: $37 for 2 people with power and water. $15 for additional adults. Unpowered sites $15 per person.
Cooktown Holiday Park
Close to the centre of town with mature trees and grassy sites. Facilities include a pool, free WiFi, camp kitchen, fish cleaning facilities, free gas BBQs, kiosk, laundry, hot showers and dump point.
RATES: $49 for two people. $10 additional adults. $5 kids.
Endeavour River Escape
This is a secluded campsite in the rainforest north of Cooktown. Each campsite is large and has its own fireplace (wood provided) and BBQ so you can feel a million miles from civilisation if you want to. Facilities include hot showers, camp kitchen, communal table and fire pit for when you're feeling social, and they have Clydesdale horses which you are welcome to pet and help feed at feeding times. All sites are unpowered.
RATES: Unavailable.
Lions Den Hotel
The Lions Den is nestled in the rainforest just south of the Black Mountain National Park south of Cooktown. They have live music on the weekends, a local swimming hole, food and a licensed bar. Facilities include laundry, hot showers, BBQ areas and a children's playground.
RATES: Unavailable
The local attractions and best (campervan-friendly) campgrounds are mapped below. The coastal road (Bloomfield Track) from Cairns to Cooktown becomes accessible only to 4WD vehicles north of Cape Tribulation. To get to Cooktown from Cairns, regular vehicles will need to take highway 81 inland. There are plans to seal it all the way so enquire or google the latest on this.

Map - Cooktown to Cairns
Road trips from Cairns