Pemberton
Drive Time: 2 hr | 150 km
Known as the Tall Timber Country due to its towering karri trees, this part of the journey takes you away from the turquoise coast and envelopes you in green.
Stop 1: Cape Leeuwin
If you haven't already, pet the friendly Hamelin Bay stingrays
Explore Jewel Cave, the last of the Margaret River limestone caves
Climb to the top of Leeuwin Lighthouse for spectacular views.
You may need a whole day for the above activities, which would give you three days in Margaret River. If you're in a hurry and have already seen a couple of caves, skip Jewel and Leeuwin Lighthouse and head straight to our next stop, Beedelup Falls.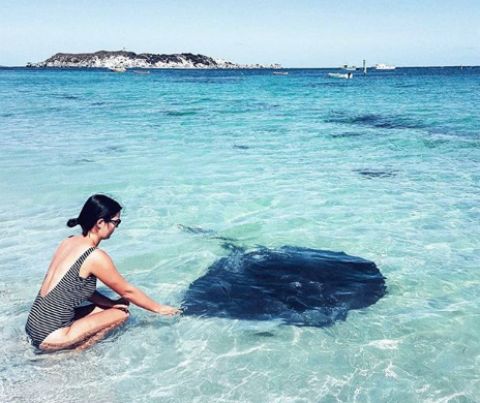 Hamelin Beach stingrays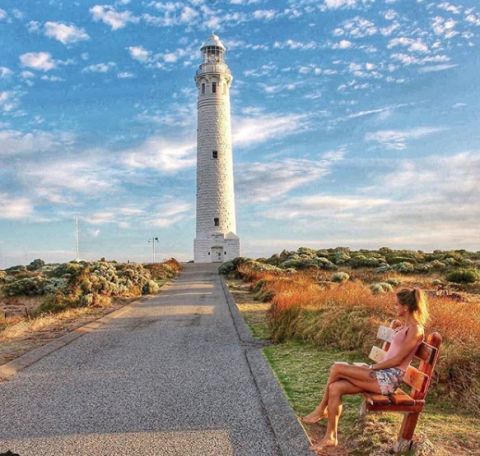 Cape Leeuwin Lighthouse
Stop 2: Beedelup Falls in Beedelup National Park
Not only does the Beedelup National Park have beautiful cascading falls, but hiking trails and a fun suspension bridge as well! The trail tot he falls is 300 metres and you must cross the suspension bridge to get to Beedelup Falls. The falls are in full flow during winter and early spring, but they're pleasant any time of year.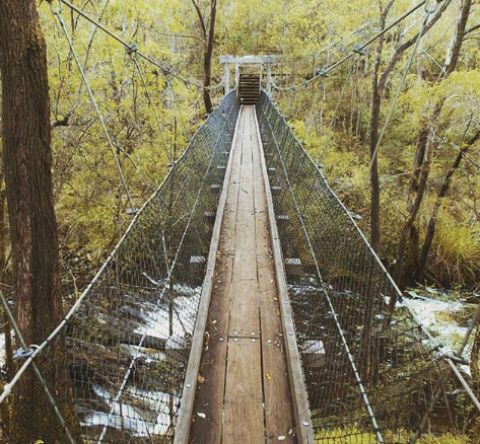 Suspension bridge at Beedelup Falls. Photo: Perthvibe via IG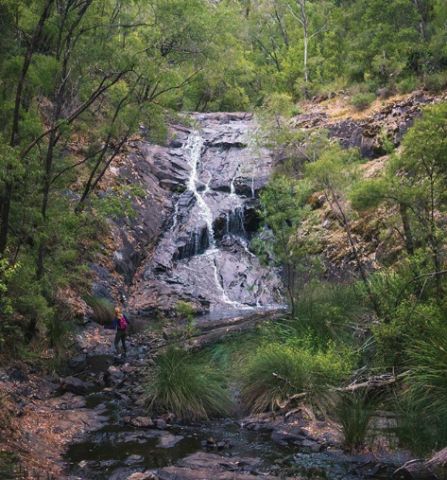 Beedelup Falls. Photo: calidum_hills via IG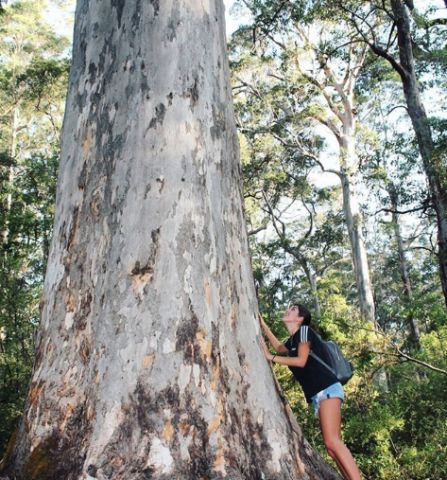 Tall trees at Beedeliup National Park. Photo: travelwiththemoon via IG
Stop 3: Dave Evans Bicentennial Tree in Warren National Park
You can actually climb Dave Evan Bicentennial Tree (a karri tree), along with Gloucester Tree and Diamond Tree. A series of spokes make a spiraling ladder up the tree. You must go up and come down via the same ladder, which makes for some interesting etiquette when you must pass someone. Who gets to pass on the inside? Who gets to stand still while the other negotiates the spokes around the person standing still?
Once you reach the top, enjoy the cool breeze on your face and the view. The real work out is coming down. Prepare to have jelly-legs!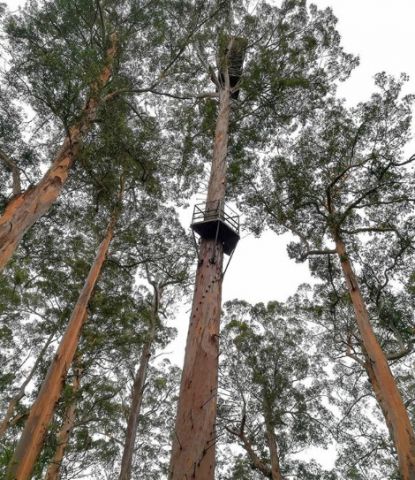 Dave Evans Bicentennial Tree. Photo: sabrinafacchetti via IG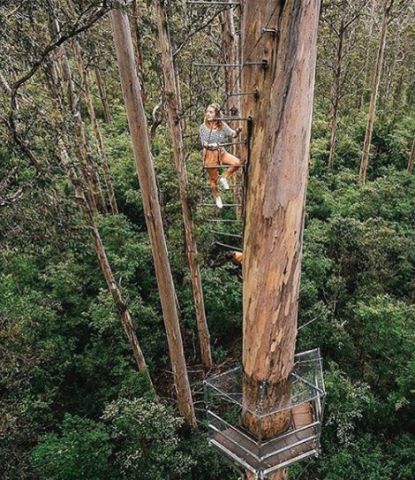 Dave Evans Bicentennial Tree. Photo: perthisok via IG

Stop 4: Gloucester Tree in Gloucester National Park
Gloucester Tree is another tall karri tree with climbing spokes. It used to be a ire lookout in 1947. Foresters would scale the tree and lookout from the top. Jack Watson was the first to climb it using climbing boots and a belt. It took him six hours to reach 58 metres high and return.
The tree was named after the Duke of Gloucester who was Governor General of Australia at the time. He watched the pegging of the ladder and tried his hand at using the auger to bore holes for the climbing pegs. When he remarked that it did not seem too difficult a task, the axeman retorted "Come off it-you're not through the bloody sapwood yet!"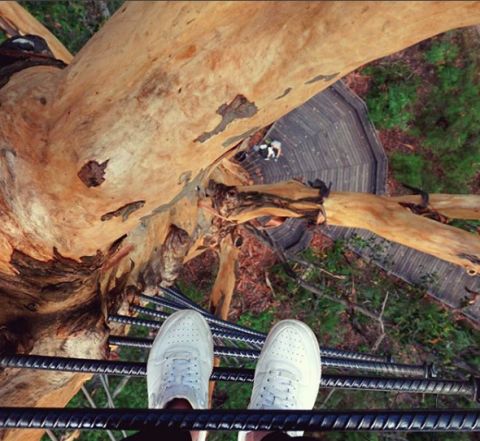 Gloucester Tree climb. Not for the faint-hearted. Photo: fannyvdw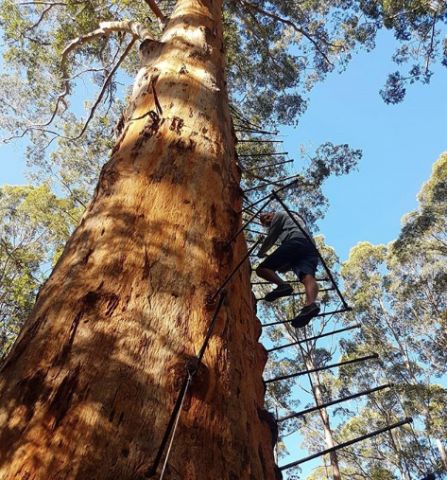 Gloucestor tree climb. Photo: 2tramps1world via IG

Stop 5: Yeagerup Dunes
The Yeagerup Dunes are best seen at sunset so you might consider camping here the night at the Leaning Marri Campground. 4WD vehicles enjoy driving across the dunes, but if you come late in the day and walk a little way into the dunes you'll be able to escape both the vehicles and their tracks in order to capture some magnificent photos.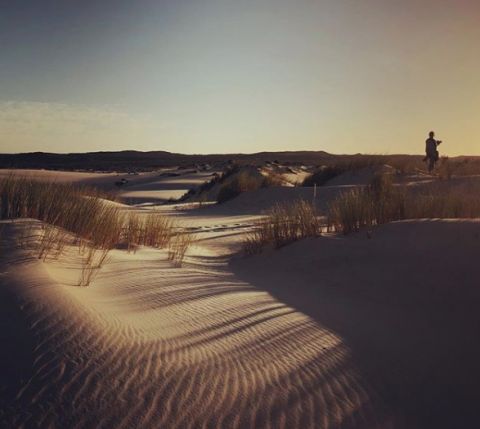 Yeagerup Sand Dunes. Photo: valerie_june_photography via IG
Camping and Caravan Parks
Leaning Marri Campsite - near Yeagerup Dunes has 6 campsites near the sand dunes. It has toilets and is close to some dune walks. Fires are normally permitted.

RATES: $8 per adult. $6 concession. $3 kids.
Next stop Denmark.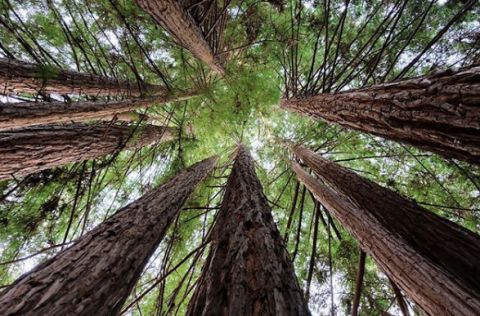 Big Brook Arboretum. Photo: liamarsh via IG
The Perth to Adelaide Map
Western Australia Road Trips