Yarra Valley
Loop from Melbourne: 210 km | 4 hr drive time
Wine tours - art - local produce - forest walks
The Yarra Valley is world famous for its wine, but it is also host to some great breweries and cideries, sophisticated restaurants, farm gate produce, stunning forest walks, wild life and a thriving art scene.
We've created a loop drive that takes in four key regions – Lilydale, Warburton, Healesville and the Yarra Glen. With Lilydale just 45 minutes from Melbourne, this makes a perfect day trip. If you have more time on your hands, you could tie Yarra Valley in with the Dandenongs and the Gippsland Lakes for a long weekend, or a leisurely week to avoid the weekend crowds.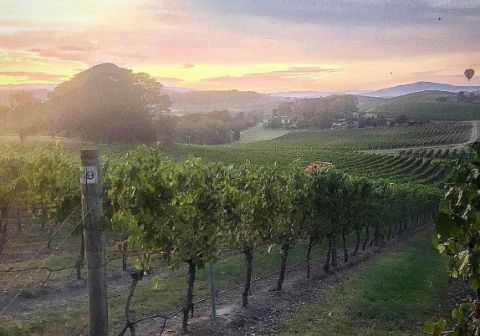 De Bortoli wines, Yarra Valley, Victoria, Australia

1. Lilydale
Your first stop from Melbourne (or the Dandenongs if you started with that) is Lilydale. Here you can stop to view exhibits at the Yarra Ranges Regional Museum. Exhibitions change all the time. At the time of writing the focus was on vintage – vintage clothes, vintage hair, vintage cocktails, vintage everything.
If it's time for a midmorning coffee with a view, head to Lilydale Lake, a 100 hectare artificial lake and wetlands area where you can enjoy 10 kms of lakeside walks, the ruins of a flour mill, fishing, birdlife, a children's playground, toilets, BBQs and picnic tables.
En route to Warburton you could call into some u-pick farms for fresh seasonal berries.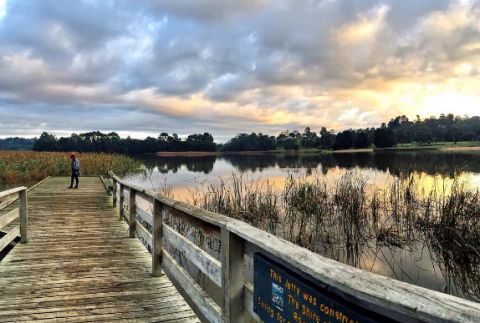 Lilydale Lake, Yarra Valley, Victoria, Australia. Photo: itskrazzyy via IG

2. Warburton
On the way into Warburton, call into the Blue Lotus Water Garden (closed winter and spring, opens December. Adults $17) to admire their giant water lilies and make use of their BBQs and picnic huts.
Drop in to the Upper Yarra Arts Centre to view their latest art exhibition.
Visit the Rainforest Gallery (Donna Buang) to walk through the rainforest canopy to an observation platform. A boardwalk takes you through tall old growth Mountain Ash trees, 400 year old Myrtle Beech trees, ferns, mosses and other plants by a gurgling creek that make up this damp and diverse rainforest environment.
YARRA VALLEY CAMPERVAN CAMPING
If you're tying this in with the Dandenong day trip and need somewhere to stay, Warburton Holiday Park has 4 stars on Trip Advisor which is the highest rated. River front unpowered sites are $35. There are no National Park campgrounds in the area.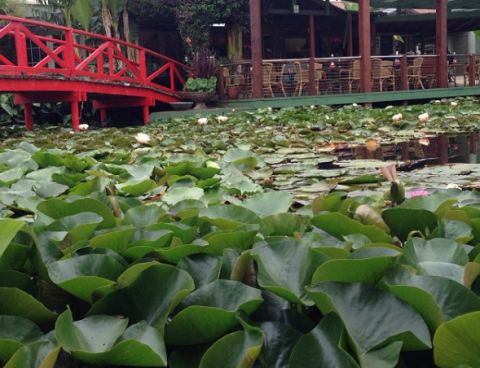 Blue Lotus Water Garden, Yarra Valley, Victoria, Australia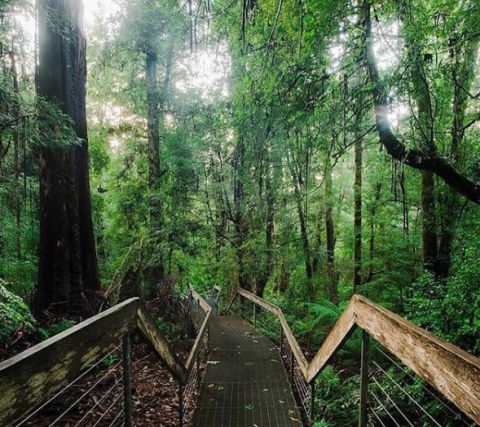 Donna Buang Photo: brynnfarkas via IG

3. Healesville
Badger Weir Picnic Area is the perfect place to enjoy a picnic or barbecue, enjoy fresh mountain air, forest walks, ancient fern gullies, mountain streams, towering Mountain Ash and the rich bird life and wildlife.
Badger Creek Blueberry Farm sells their jams and preserves, and has a cellar door for their blueberry wine and pear and apple ciders.
The Healesville Sanctuary (kids free on weekends) is home to many Australian wildlife species including koalas, kangaroos, wallabies, echidnas, owls, kites, buzzards, various reptiles, emus, possums, platypus, parrots, wombats, and Tasmanian devils. They offer close encounters with koalas, wading with the platypus, and petting wombats.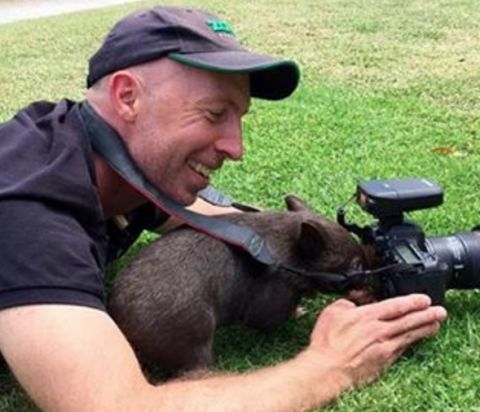 Drop in to Four Pillars Gin for a gin tasting, Buckley's to try their brews, and the Healesville Fruit Market for some organic local produce.
Just outside of town is the Tarrawarra Museum of Art, a beautiful work of contemporary architecture that houses changing exhibitions of Australia's most prominant artists from the 1950s to the present day including John Brack, Bret Whitely, John Olsen, Fred Williams, Susan Norrie, Russell Drysdale, Richard Bell, Dale Hickie and Roaslie Gascione amongst others.


Tarrawarra Museum of Art, Yarra Valley, Victoria, Australia
Head to Maroondah Damn and Reservoir Park for beautiful gardens, hedge hallways, forest walks, waterfalls, and the calm reflective waters of the reservoir. View giant sequias, take the stairs through the historic rose garden, walk out to the water tower and make use of the picnic facilities and rotundas.
4. Yarra Glen
From Healesville, head to the Yarra Glen on the Maroondah Highway so you can enjoy a little wine and food tour on the way.
The Yarra Valley Wine and Food Tour
Maddens Rise is an artisanal winery with a sustainable and ecological philosophy and consistently good wines.
Taste the cheese and yoghurt at Coldstream Dairy.
Enjoy a spot of champagne and wine at the famous Domain Chandon. It was voted best large cellar door in the Yarra Valley. Their restaurant offers share plates of delicious creations concocted from the local produce. Enjoy this with views of the rolling hills and verdant vineyards.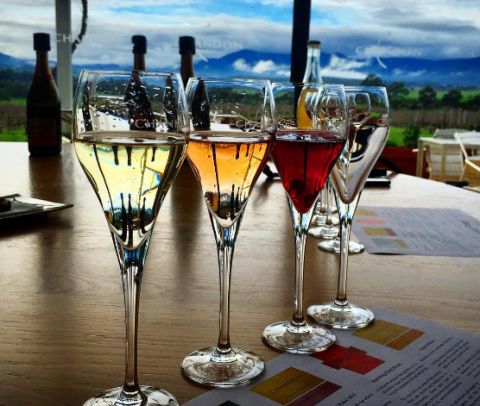 Domain Chandon winery, Yarra Valley, Victoria, Australia.
Punt Road Winery is also home to the Napoleone brewery and cidery. Everything is grown and produced on this patch of paradise. You can pair your wines with local cheeses.
The rustic Yering Farm winery is housed in a 100 year old resurrected hay shed beside the apple orchards and lambing nursery. They offer lunch on a brick patio overlooking the vineyards where you can enjoy the sight of rabbits and ducks. Try their pink lady apple cider.
Yering Station is Victoria's oldest vineyard. Taste their wines, then dine in their restaurant overlooking the valley.
Chocaholics should head to Yarra Valley Chocolatiers for a fix.
Zonzo Estate offers authentic Italian cuisine with their wines in charming surrounds.
Garden lovers will enjoy a stroll through the four acre Alowyn Gardens, especially the tunnel of purple wisteria, the symmetrical European hedge parterre garden, the edible garden and the spring blossoms.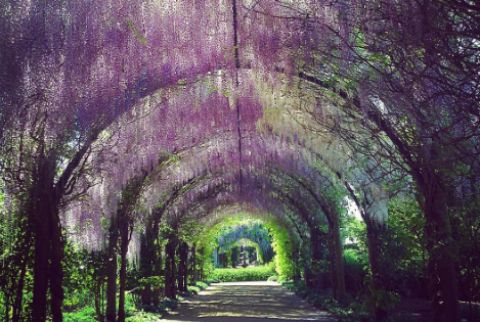 Alowyn Gardens
Yileena Park Estate offers boutique wines, cheese and smoked products (salt, nuts, olives, olive oil, red wine vinegar, seeded mustard and cheese) in a cool sandstone cellar door. A first floor deck overlooks the property. During winter, a fireplace keeps you cosy.
De Bortoli Estate and restaurant has made a serious commitment to the environment by reducing their water use, their carbon footprint, and using biological farming methods. Their menu is seasonal, drawing upon local produce, and they offer an entire vegetarian menu for those who don't eat meat.
More Information