The Central Coast
77 km north of Sydney | 1 - 2 days
Ku-ring-gai Chase National Park | Gosford | Brisbane Water National Park | Bouddi National Park | The Entrance | Central Coast Beaches | Wyrrabalong National Park | Norah Head | Budgewoi and Munmorah State Park
Just an hour north of Sydney is a region of golden beaches, clear lakes and national parks. It's a haven for water activities, family fun, cosmopolitan seaside towns and wilderness. Following is a list of things to see and do in the region and the most highly-reviewed campervan-friendly campsites. All are mapped at the end of the article. The Central Coast is part of the Sydney to Gold Coast drive.
STOP 1: Ku-ring-gai Chase National Park
Upon leaving Sydney, the first large national park you come to is Ku-ring-gai Chase National Park. Colourful sandstone cliffs, sheltered coves, waterfalls, forests, fern glens, Aboriginal and convict history, and stunning ocean views that are perfect for whale watching in spring and autumn, make this a rewarding park to explore on foot or mountain bike. Fishing is permitted with a license.
Highlights include the Aboriginal Heritage walk, Barrenjoey Lighthouse, the Great North Walk, Bobbin Head picnic area, West Head lookout, America Bay walk, Apple Tree picnic area, Basin Aboriginal art site, Birrawana Walking track, Red Hands cave, Resolute Bay, and many more walking tracks. Maps can be picked up at Kalkari Discovery Centre at Bobbin Head.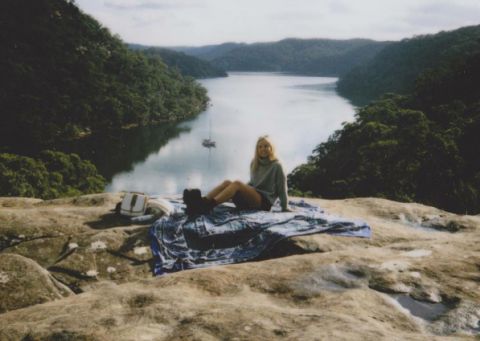 America Bay, Ku-ring-gai Chase. Photo: northernbeachesguide via IG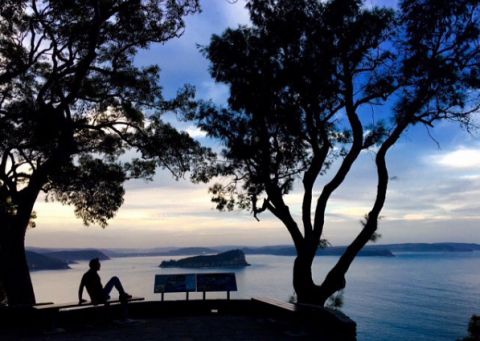 West Head Lookout, Ku-ring-gai Chase, NSW. Photo: my_ray1 via IG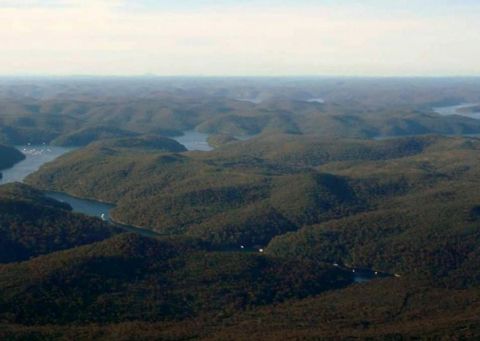 Ku-ring-gai Chase. Photo: dav_gua via IG

STOP 2: Gosford and Around
From Sydney, Gosford is the first city gateway city to the Central Coast. Highlights here include the lush green valley of Glenworth and Glenworth Valley Outdoor Adventures. Activities include abseiling, horse riding, quad bike riding, kayaking, mountain biking, bush walking, laser skirmishes, laser clay pigeon shooting and archery. Entry is $75. Camping by the river is available here for campervans. Facilities include hot showers, toilets, wood BBQs and picnic tables.
At the Australian Reptile Park and Wildlife Sanctuary you can encounter Australia's native wildlife. There is a focus on reptiles – crocodiles, large goannas (a type of monitor), venomous snakes – but the park is also home to many Australian parrots and birds (they even have a Cassowary!), amphibians, spiders and mammals.
At the Gosford Classic Car Museum there's a car that will win your heart. I have a soft spot for 1930s gangster mobiles. But whether it's classic sports cars, stately sedans with chrome dash boards and leather upholstery, or vintage motorcycles, you'll find something to love. Bring your camera!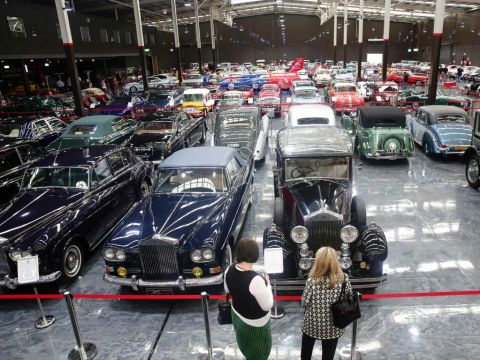 Gosford Classical Car Museum, Gosford, NSW
STOP 3: Brisbane Water National Park
Brisbane Water National Park near Gosford is a forested coastal region of sandstone, eucalypt forests, fern glens, waterfalls, and a myriad of waterways. The park also protects ancient Aboriginal rock engraving sites. There are so many walks you'll have trouble choosing. There are also mountain bike paths and fishing spots (grab a fishing license from a tackle shop or tourist information centre).
Highlights include the Great North Walk, Bulgndry Aboriginal Art Site, Staples Lookout, Warrah Lookout, Somersby Waterfalls and picnic area (bring your swimming costume!), Patonga to Pearl coastal walking track, Girrakool Loop, the more challenging day walk on Piles Creek Loop which takes you to waterfalls, over a suspension bridge, and ends at a picnic area, and a seemingly infinite number of other walks.
You pass through Woy Woy on the way to the southern part of Brisbane Water. If your stomach is rumbling, stop in at Gnostic Manna. They have plenty of veg-friendly options. The community of shops on Gnostic Corner offer organic food and sustainable products, and the enclave has a great vibe.
More about the beach communities of Patonga, Umina and Pearl, as well as recommended camping, follows.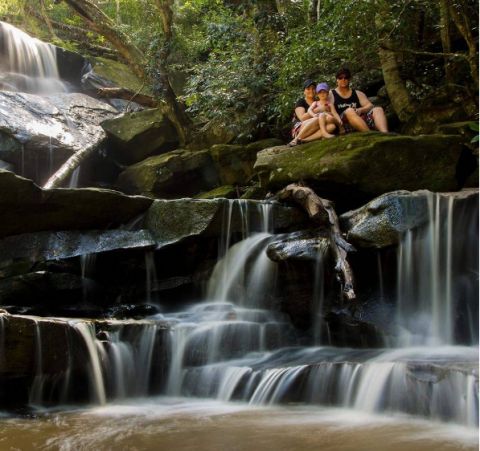 Somersby Falls, Brisbane Water. Photo: nicolliephotogrpahy via IG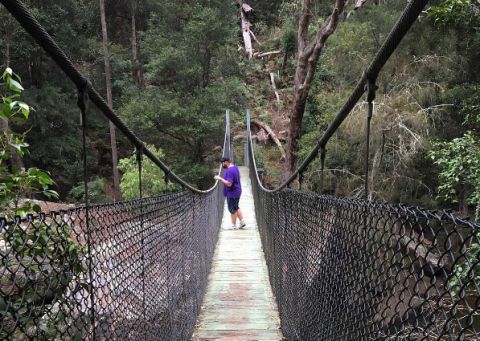 Piles Creek suspension bridge. Photo: miaferret via IG

STOP 4: Beach communities of Ettalong, Umina & Pearl
The residents of these quiet and pretty beachside communities enjoy a life on the water; a life messing about in boats, swimming, fishing and kayaking. If you want to experience the lifestyle, head to Anderson's boat shed, rent yourself a vessel and explore the secret coves, islands and undulating coastline of the area.
Climb Mount Ettalong or drive to Umina Point for ocean views and whale watching. Relax and swim on Ettalong Beach, Umina Beach, or Pearl Beach. Stunning coastal walks connect Pearl Beach and Patonga. Swim in the Pearl Beach rockpool and walk to Warrah Lookout for a great photo opportunity and panoramic views. Ferries run tours of the region. The waters of Ettalong Beach are clam, sheltered as it is by the Box Head headland, which makes it safe swimming for the kids.
You'll find campervan-friendly camping at the NRMA Ocean Beach Resort and Patonga Camground. All attractions and campsites are mapped below.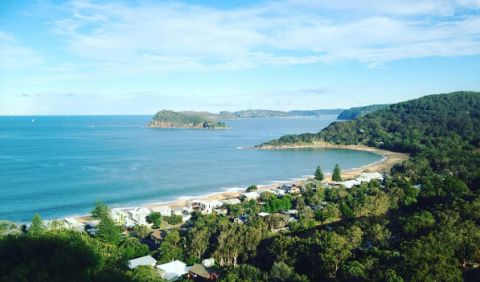 Pearl Beach. Photo: phntmjak via IG
STOP 5: Bouddi National Park
Bouddi National Park is a stunning stretch of coastal land with sandstone cliffs, native rainforests, healthlands, sandy coves, and rich birdlife. Highlights include the Bouddi coastal walk (pictured below) where you can enjoy the fresh ocean breeze, panoramic views, nesting birds, and in spring and autumn the passing whales. Putty Beach Campground is campervan-friendly.
Highlights include the Gerrrin Point Lookout, Box Head track, Bouddi Coastal Walk, Maitland Bay track, Allen Strom Lookout, Flannel Flower walk, Bullimah Spur Track.
The nearby seaside town of Killcare Beach is a great place to swim on a patrolled beach, shop and dine.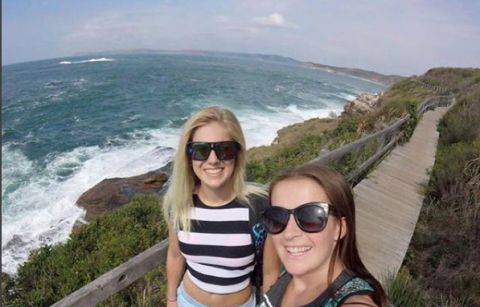 Bouddi coastal walk. Photo: sezgoodwin94 via IG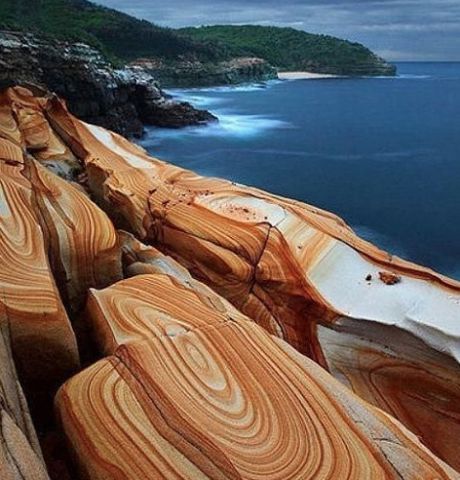 Bouddi National Park. Sandstone. Photo: umberandochre via IG

STOP 6: McMasters Beach and Copacabana
McMasters Beach is rated one of the top 100 surf beaches in Australia. In a nation that has thousands of beaches and a large population of surfers, that's saying something. There's a surf life saving club, a tidal swimming pool and patrolled swimming and surfing in summer (and on weekends during winter). Enjoy a meal or a coffee on the beach at Barefoot Cafe, or fire up the public beachside BBQ (located behind the kiosk at the south end). From McMasters Beach there are coastal walks to Copacabana, Maitland Bay and Little Beach.
Copacabana Beach is at the north end of McMasters. It's broader and also has patrolled swimming. Captain Cook lookout is a great vantage point from which to spot whales (spring and autumn).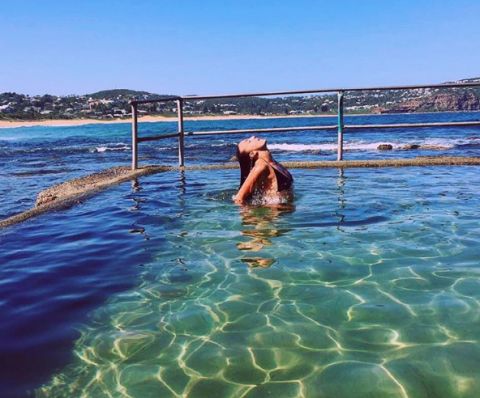 McMasters Beach rockpool. Photo: tashimarconi via IG
STOP 7: Avoca Beach and Terrigal
Avoca Beach is a long broad stretch of golden sand between rocky headlands. It is popular with families and can get busy during the summer holidays. Cast a line and catch your dinner, take a rejuvenating beach walk, swim, learn to surf, go diving, sample the restaurants, go kayaking on Avoca Lake, or laze on the beach.
Terrigal Beach is a surf mecca. Beginners can get lessons at the Central Coast Surf School and experienced surfers head to Wamberal Beach at the north end. The south end of Terrigal Beach is calm, protected and pleasant for swimming. Terrigal beach is fringed with stately Norfolk Island pines which gives the region its character. The town of Terrigal offers a cafe culture, art galleries, shopping and sophisticated dining. For panoramic views, walk up to Skillion Point. Off shore is a shipwreck popular with divers.
For vegetarian food, a beautiful tea house, holistic healing and serene gardens, head inland to Buddha Bamboo.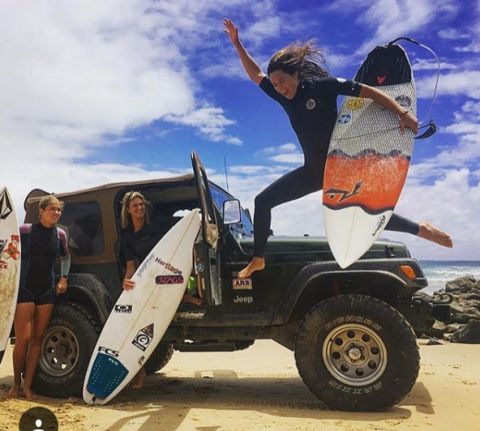 Avoca Beach, NSW. Photo: johnomahoney44 via IG

STOP 8: Wyrrabalong National Park
Wyrrabalong National Park is a whale watching hotspot and preserves the last patch of coastal rainforest on the Central Coast. Here you can walk among majestic red gums, swim on pristine beaches, surf, fish, encounter diverse wildlife and Aboriginal heritage. Birdlife is rich and includes eagles and kestrels. The stunning landscapes can be explored via a network of walking tracks and mountain bike tracks dotted with picnic areas and lookouts.
Highlights include the coastal walk, Bateau Bay beach and picnic area, and Crackneck Point.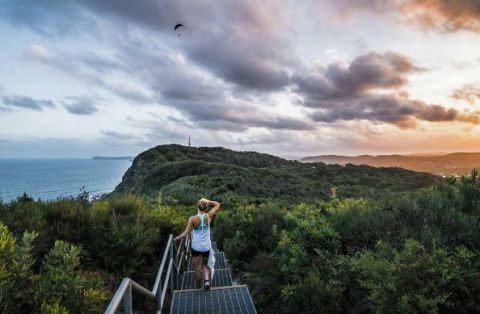 Wyrrabalong, NSW. Crackneck Point. Photo: _Emilyke via IG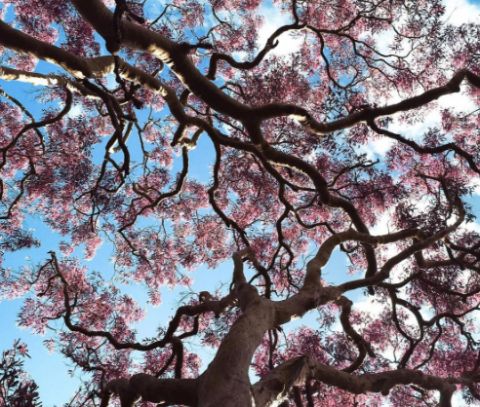 Gums in flower. Wyrrablong National Park. Photo: tylerdrinksh20 via IG

STOP 9: The Entrance
The Entrance is a major town on the Central Coast where you can enjoy swimming and surfing at the beaches and ocean baths, or kayaking and fishing on the lake. Picnic areas and BBQs are dotted along the lakefront. Sails Stage in town has free live performances. There's a farmer's market so you can stop up on fresh local produce. Hire a bike from Boomerang Bike Hire and explore The Entrance via its cycle paths. A highlight is the pelican feeding at 3.30 pm each day (mapped below).
On the other side of the lake in Wyong is the Little Creek Cheese company where you can taste their cheeses. All the cheese is vegetarian (they use vegetarian enzymes instead of animal-based rennet) and they even have some vegan cheese.
Highly-reviewed campervan-friendly camping can be found at Duncans Lakefront Park and Two Shores Holiday Village. See the map below for links and directions.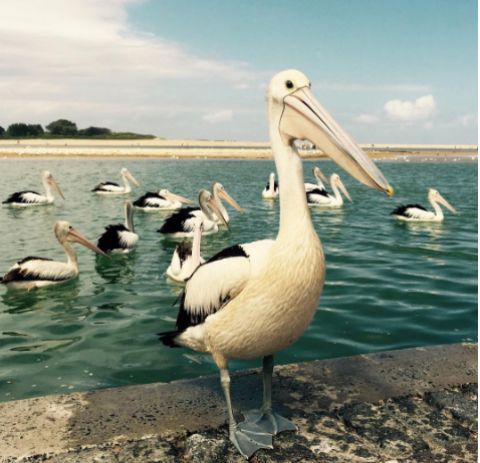 Pelican feeding at The Entrance, NSW. Photo: Mr_veeee via IG
STOP 10: Norah Head Lighthouse
Perched on Norah Head is the beautiful Norah Head Lighthouse. For $6 you can take a tour and learn about lighthouse keeper duties, climb the 96 stairs, enjoy the 360 degree views, marvel at the glass prisms, and hear stories of shipwrecks.
On the way, call in to Pelicans Beach road lookout with sweeping views of the coast. Nearby Soldiers Beach is ideal for a refreshing dip at a patrolled beach. To the north of Norah Head is the Norah Head rockpool which is perfect for small children.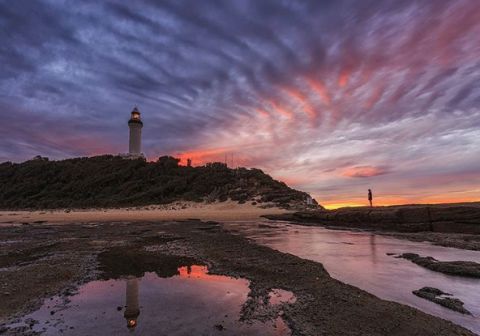 Norah Head Lighthouse, NSW. Photo: ness_farmilo via IG

STOP 11: Budgewoi to Munmorah State Recreation Area
This region is known as the Northern Lakes, and lakes are a key feature. The lifestyle here revolves around the water - surfing, swimming, kayaking, fishing, prawning and generally messing about in boats. The the east are long stretches of gold sandy beaches, most of them patrolled for swimmers. Soldier's Beach is a good surf beach when conditions are right.
Take in the panoramic views from Snapper Point at Munmorah State Recreation Area. Frazer Camping area in Munmorah has gas BBQs and toilets. Take to the Ardsham bicycle trail to enjoy some lakeside cycling, walk the coastal tracks, or drive down to Birdie Beach for a swim. Clothing is optional at the far north end.
Find campervan-friendly camping at Budgewoi Holiday Park (full facilities), and in Munmorah State Recreation Area at Frazer Campground (Gas BBQs, picnic tables, showers, toilets) and Freeman Campground (Gas BBQs, picnic tables, drinking water, showers and toilets). Links and directions are on the map below.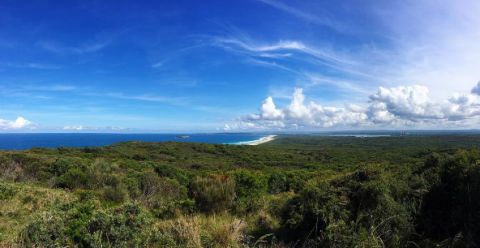 Munmorah National Park, NSW. Photo: thenaturallens via IG

Further Road Trips
More Information