Canberra & Mount Kosciuszko Route
1,700 km | 21 hours | 7 days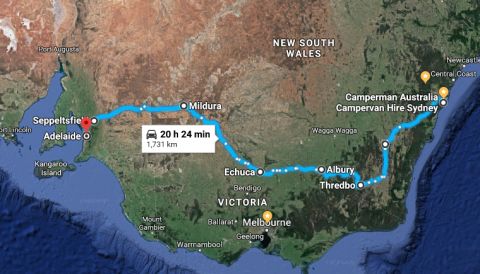 Sydney - Kosciuszko - Adelaide Itinerary
Day 1: Sydney | Southern Highlands - 290 km | 3 hr 40 min
Day 2: Canberra
Day 3 & 4: Mount Kosciuszko - 235 km | 3 h 15 min
Day 5: Albury | Echuca - 430 km | 5 h 20 min
Day 6: Swan Hill | Mildura - 375 km | 4 h 15 min
Day 7: Murray River | Barossa Valley | Adelaide - 390 km | 4.5 h
---
Adelaide - Kosciuszko - Sydney Itinerary
Day 1: Adelaide | Barossa Valley | Murray River - 390 km | 4.5 h
Day 2: Mildura | Swan Hill - 375 km | 4 h 15 min
Day 3: Echuca | Albury - 430 km | 5 h 20 min
Day 4 & 5: Mount Kosciuszko - 235 km | 3 h 15 min
Day 6: Canberra
Day 7: Southern Highlands | Sydney - 290 km | 3 hr 40 min
---
Known for its beautiful garden estates which are sometimes open to the public, its autumn colours, its historic buildings and country mansions, its national parks and hikes, its antiques, galleries, wineries and its picturesque landscapes, the Southern Highlands is worth at least a day of your time. For more information read our full article: 5 Highlights of the Southern Highlands.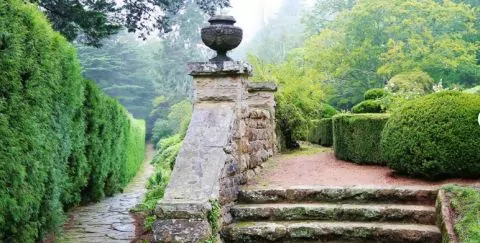 Milton, Southern Highlands.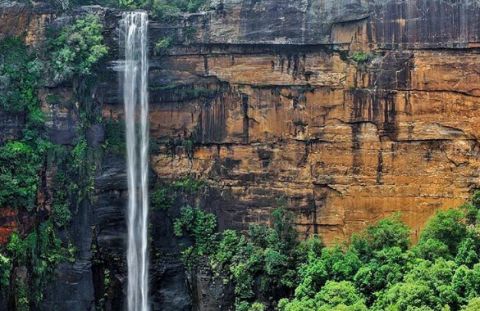 Fitzroy Falls.
is a green and spacious city of gardens, jazz, wineries and some of Australia's best museums (we list the top ten). The National Art Gallery is a personal favorite. Kids will love the hands-on exhibits at Questacon, and everyone will find the Australian War Memorial moving, immersive and informative. Its expansiveness makes Canberra the ideal city to explore from behind the wheel of your campervan. We recommend spending 1 - 3 days here. For a list of things to do and the best Canberra Caravan Parks, see our full article: Things to do in Canberra.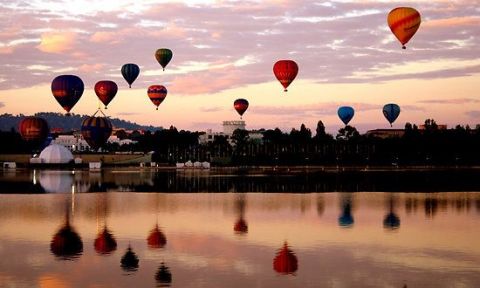 Canberra
The 74 km scenic drive from Thredbo to Khancoba passes through the Kosciuszko National Park on a winding road.
Park at Thredbo to climb Mount Kosciuszko (13 km return).
Another option is to tackle the Summit Walk from Charlotte's Pass to Mount Kosciuszko (18km return).

Dead Horse Gap gives you the full diversity of the Snowy Mountains from snowy gums along the river to mountain ridges with stunning views. (10 km return)
As you pass through Kosciuszko National Park, stop at lookouts along the way to take in the stunning views. There are a few options for free overnight camping as well as the Kosciuszko National Park camping grounds. Read our full article on Mount Kosciuszko National Park.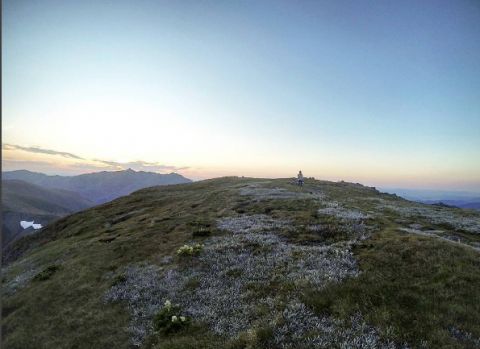 Kosciuszko National Park. Photo: ezekielpictorials via IG
Tom Groggin
The mountain town of Tom Groggin marks the beginning of the Great Alpine Way where you can stretch your legs with even more breathtaking mountain walks and jaw-dropping views. If you're a Man from Snowy River fan, embark on a horse riding adventure from Cochran Horse Treks.
Between Khancoban and Albury, is the town of Coryong where you'll find the Man From Snowy River Museum.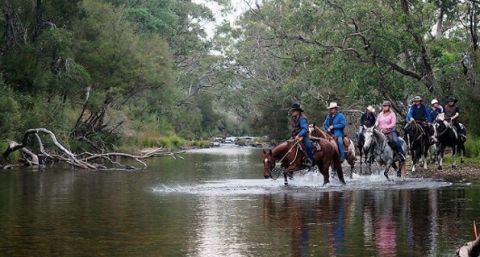 Horse adventures. Photo: Tom Groggin Station.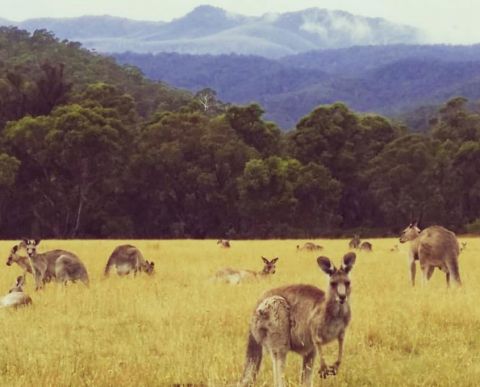 Photo: Tom Groggin Station
Albury (NSW) and Wondonga (VIC) straddle the Murray River, which is lined with stately 600-year-old river gums. The towns are known for their fine heritage architecture, brilliant yellow canola fields, tree-lined country lanes, autumn colours, excellent restaurants, wineries and local produce.
7 Things to do in Albury and Wadonga
Learn the regional history at the Library Museum and Albury Museum
Photograph the canola fields
Bird watch at Wonga Wetlands
Take in some art at the Murray Art Museum Albury (MAMA)
Stroll through the Albury Botanic Gardens
Let the kids run loose at Oddies Creek Play Space
Tootle through the Ruthergeln countryside dropping into wineries and tasting wine. This region is known for its cool climate wines.
Albury Caravan Parks
Big4 Albury Tourist Park

is centrally located in Albury. Facilities include hot showers,

free WIFI, swimming pool, BBQ, playground, laundry, dump point and guest lounge.
RATES: From $35 for two adults. Additional adults $15


Lake Hume Tourist Park is outside of town on the shores of Lake Hume. Facilities include free WIFI, basket ball, playground, swimming pool, cafe, laundry, camp kitchen, boat hire, laundry, BBQ and picnic tables.
RATES: From $27 for two adults. Additional adults $14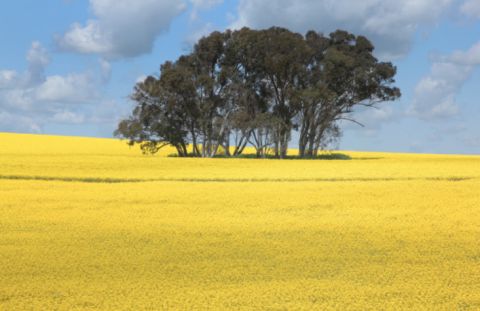 Canola Fields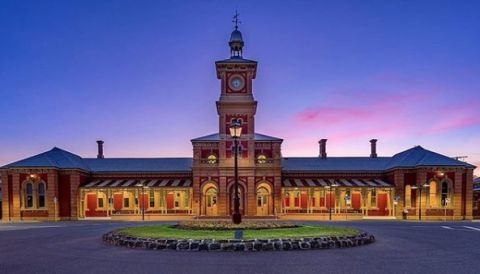 Albury. Photo: _matt.walker_ via Instagram


Echuca
Echuca is home to the largest paddle steamer fleet in Australia. It's a picturesque historic town on the banks of the Murray River and a lovely spot to spend the night.
Things to do in Echuca
Learn about the Murray River and paddle steamer history at the Port of Echuca Discovery Centre
Tour the Murray River on a paddle steamer. This can be done at Echuca Paddle Steamers or the Murray River Paddle Steamers where you can ride the famous Emmylou.
Taste the excellent wine at Morrison's Winery.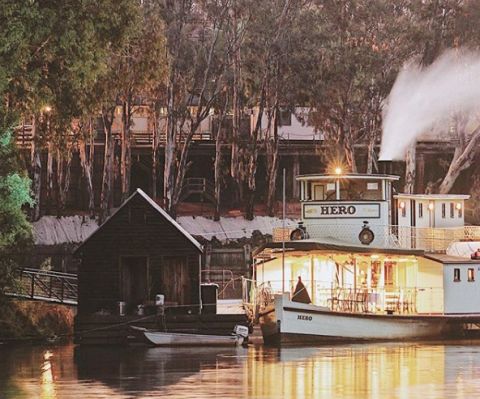 Echuca Paddle Steamers.
Swan Hill
The draw card at Swan Hill is the Historic Pioneer Settlement but you can also visit wineries and the regional Art Gallery. There are BBQs in Riverside Park for a picturesque lunch or dinner. Local produce includes Murray cod, yabbies, avocado, stone fruit, citrus fruits, and wine.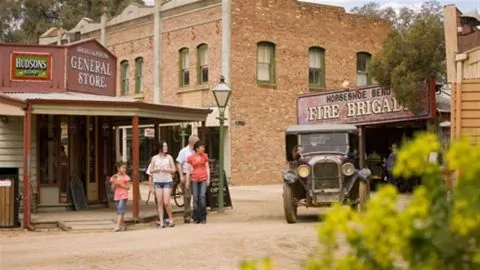 Historic Pioneer Settlement at Swan Hill.
Mildura
Mildura is an oasis in the outback and a cornucopia of local produce and vineyards. Stop here for the paddle steamer tours of the Murray River, the art deco buildings, the wine tasting at local vineyards, the quality dining and the picturesque hinterland.
Things to do in Mildura
Visit Lock11. Paddle steamers pass through this lock and it is fascinating to see how a lock works, and more photogenic when it is a paddle steamer that is being transported.
The Mildura Arts Centre is housed in a Queen Anne mansion.
The Etiwanda Wetlands is a bird watcher's paradise. Bring your camera!
Chateau Mildura Vineyard is a pleasant spot to sip wine.
Sand Bar pub has Art Deco architecture and a beer garden.
Kings Billabong Nature Reserve is good for kayaking.
Apex Beach is the spot to catch some sun, swimming, and enjoy people watching.
The Arts Centre will give you plenty of culture.
Drop in to the Brewery or the Cider Tree for some local brews.
Taste the local oranges and their products at Orange World. You can also take a tour of the orange orchard and learn how to pick a good orange.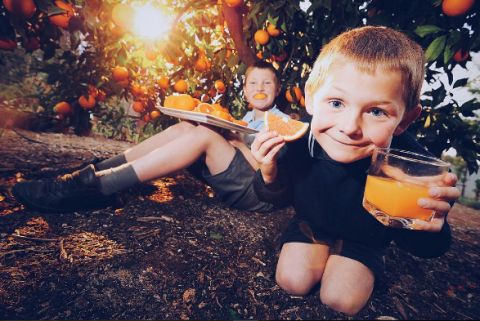 Mildura Caravan Parks
The Buronga Riverside Tourist Park receives excellent reviews. It sits on the banks of the Murray River and they have wildlife, an animal farm, a tennis court, 2 swimming pools, a BMX track, 2 playgrounds, and a jumping pillow.RATES: Unpowered sites from $29 for two. Additional adults $9, kids $5.


BIG4 Mildura Getaway is right in town. Facilities include camp kitchen, jumping pillow, swimming pool, toddler pool, playground, games room (foos ball, table tennis, pool table, wii), hot showers, laundry, BBQs, free WiFi, TV lounge, dump point, lending library.
RATES: Powered sites from $38 for two people. Additional adults $15, kids $12.


BIG4 Golden River is just north of town on the Murray River. Facilities include camp kitchen, jumping pillow, swimming pool, toddler pool, playground, games room, hot showers, laundry, BBQs, WiFi, TV lounge.
RATES: From $37 for two. Additional adults $12.


All Seasons Holiday Park is located in town. They have an amazing water playground for the kids. They also have a heated swimming pool and toddlers pool, free WiFi, camp kitchen, BBQs, games room, jumping pillow, herb garden, basket ball, totem tennis, tennis court, dump point.
RATES: Powered sites from $36. Additional adults $10.
River Gardens Holiday Park is located outside of town on the banks of the Murray River. Facilities include hot showers, laundry, free WiFi, playground, swimming pool, jumper, BBQ, pizza oven.
RATES: Unpowered site from $27 for two people. Additional adults $10


Apex River Holiday Park is located on a quiet bend of the Murray River. The sites have river views. Facilities include hot showers, laundry, BBQs, camp kitchen, playground and dump point.
RATES: Unpowered from $32 per night for the site.
Vineyards and wineries, rolling hills, good food, art and quaint villages sum up the Barossa Valley. We have a self drive tour that consists of 25 stops. To fit it all in would take two days, but the Barossa Valley is only an hour out of Adelaide so you could do it as a day trip from there if you are basing yourself in Adelaide for a while.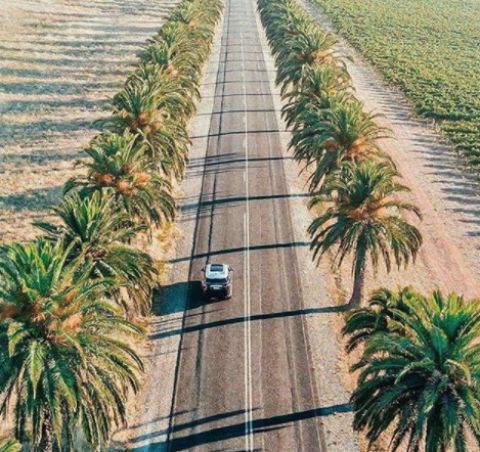 Seppeltsfield. Photo by @australianinsider via Instagram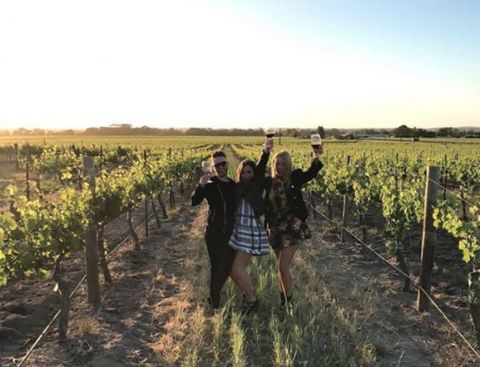 Artisans of Barossa. Photo: @sflodine via Instagram

More Information