Secret water holes, hot springs, waterfalls, Uluru, red outback landscapes, Aboriginal culture, an abundance of wildlife, big skies and wide open plains and tropical forests – the Northern Territory is full of surprises.
We've listed the best places to visit and how to tie them all into a road trip. The articles are intended for campervan travelers, which means all the destinations are accessible by conventional 2WD vehicles. We list drive times, the best places to camp, camping fees and highlights, and it's all mapped.
Litchfield National Park is known for its waterfalls and swimming holes set amidst monsoon rainforest. Towering termite mounds dot the open woodlands and the night sky shimmers with a billion stars.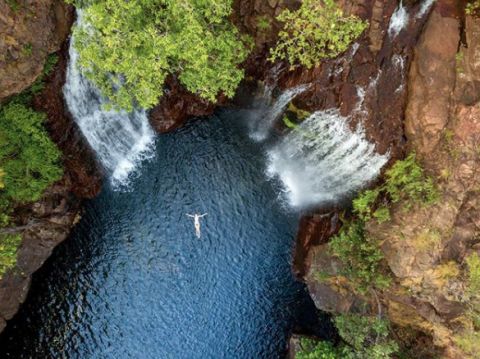 Litchfield National Park. Photo: florence windancethevan
Katherine Gorge is really a series of thirteen gorges with rapids and waterfalls. The 58 km (five day) Jatbula trail follows the gorge all the way to Edith Falls. Cruises go as far as the fifth gorge.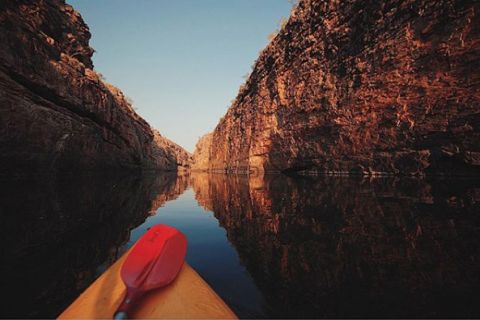 Katherine Gorge. Photo: amandaliarogers

Edith Falls (known to local Aboriginal people as Leiliyn), has a pandanus-fringed plunge pool at its base which is perfect for swimming and an upper pool above the waterfall.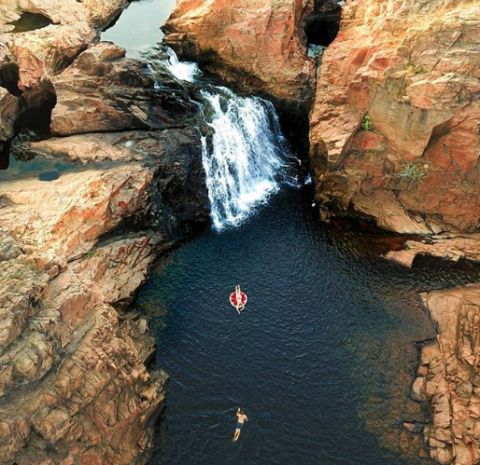 Edith Falls. Photo: powershala

Soak in the hot springs of the Elsey National Park. It is safe to swim in Bitter Springs and Mataranka Thermal Pools, which are a comfortable 34 C year round. There are some great places to stay here for the night so you can wake up and enjoy the springs again or explore some of the walks.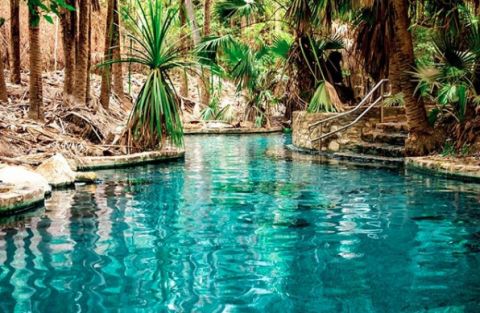 Mataranka Hot Springs. Photo: laetitiamar
Is there a more iconic image of Australia than the red ochre earth and sprawling highways of the Australian outback? In the past, there's a chance you've put this trip on hold thinking you need a specialised vehicle. However, you can easily visit some of the most important tourist destinations in the NT using your campervan!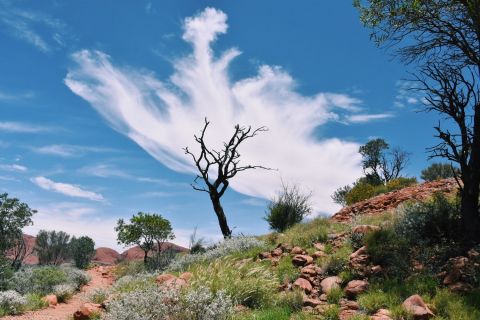 With excellent museums and desert gardens, plenty of quality places to camp and eat, and the nearest town to the MacDonnell Ranges and Uluru, Alice Springs is a handy and comfortable base from which to explore Central Australia.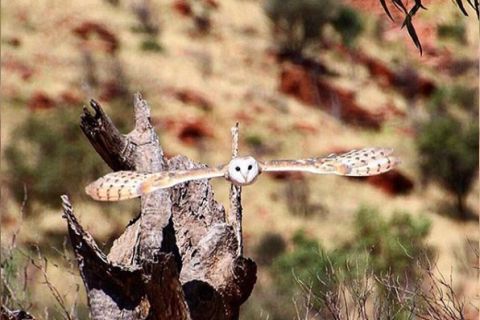 Owl at Alice Springs Desert Park
Uluru (formerly known as Ayers Rock) and Kata Tjuta (formerly known as The Olgas) are only 50 km from one another and both are worth visiting. Enjoy the many walks and viewpoints of these iconic rock formations, especially at sunrise and sunset when their colors are at their best.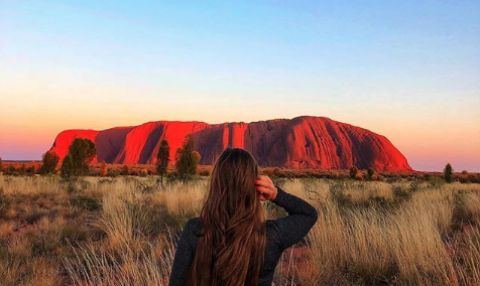 Uluru. Photo: theresalila
The MacDonnell Ranges stretch to the east and west of Alice Springs. There is camping at Ormiston Gorge and several walks from which to explore the sandstone cliffs and year round swimming holes.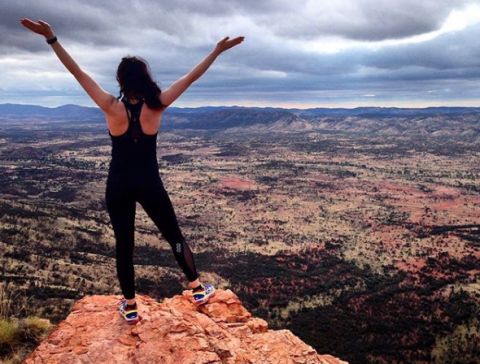 The MacDonnell Ranges. Photo: elleschembri
Map of Australian Road Trips
Use this map to customize your own road trip through the Northern Territory. Camperman has campervan hire depots in Adelaide and Cairns which are good cities from which to begin a Northern Territory road trip.
Northern Territory Road Trips
Our road trips start and end at Campervan hire depots. Northern Territory sits between the campervan hire depots of Adelaide and Cairns. By adding two of the following road trips together, you'll be able to pick up your campervan at your start point and drop it off at your destination.
3,260 km | 9 - 15 days
The sparsely populated northern belt of Australia is one of dry red soil, termite mounds, surprising lush waterholes and isolated landscapes with not a human being in sight. Highlights include Devils Marbles, Mataranka Hot Springs, Nitmiluk National Park (Katherine Gorge and Edit Falls) and Litchfield National Park. If you are starting from Cairns, give yourself a few days to explore Port Douglas, the Daintree, the Great Barrier Reef and the Wooroonooran National Park before embarking on this two week drive. From Darwin, you can head south through central Australia to Uluru ending in Adelaide, or continue around Western Australia to Broome, Perth and back to Adelaide.
3,760 km | 9 - 15 days
This road trip cuts straight through the red centre of Australia joining the Savannah Way (above) at Devils Marbles. Highlights include the underground opal mining town of Coober Pedy, Uluru and the Olgas, Alice Springs, MacDonnell Ranges, Mataranka Hot Springs, Nitmiluk National Park (Katherine Gorge and Edit Falls) and Litchfield National Park. If you are adding this road trip to the Savannah Way (above), give yourself 3 weeks for the whole trip.
Darwin - Broome - Perth - Adelaide
Darwin - Broome | Broome - Perth | Perth - Adelaide
8,800 km | 5 - 7 weeks
This road trip take you half way around Australia - the sparsely populated half. From Darwin, you travel through the surreal outback landscapes of the Kimberley, then follow the coast all the way around from Broome to Adelaide. Highlights include Kununurra and Lake Argyle, Parrys Lagoon boab forest, Wyndham, Geike Gorge National Park, Broome, swimming with whale sharks on the Ningaloo Reef, the dolphins of Monkey Mia, the Shark Bay World Heritage Area, The Pinnacles Desert, carpets of wildflowers (July – October), the Dampier Archipelago, the Lancelin Sand Dunes, Karijini National Park, Perth, the giant Gloucester Tree climb, Yeagerup Dunes, Margaret River wine region, limestone caves, and the great feat of crossing the Nullarbor plain.