Campervan Touring Information
Broome to Darwin | The Kimberley in 6 days
1,200 km | 17.5 hrs
The stunning and surreal landscapes of the Kimberley are like nowhere else on earth. Access to the Bungle Bungles and Purnululu National Park is by 4WD due to creek crossings. It's definitely not suited to campervans. But don't let this deter you. You could take a tour ($315 per person) or rent a 4WD from $70 per day out of Kununurra. Kununurra is 4 hr and 45 min from Purnululu, so this option will add a day to this Kimberley tour. All stops are mapped at the bottom of the article.
Day 1: Kununurra and Lake Argyle
Day 2: Wyndham and Parry's Lagoon - Drive 112 km | 1 h 45 min
Day 3 & 4: Purnululu National Park and the Bungle Bungles (if hiring 4WD, add a day)
Wyndham/Kununurra to Purnululu - Drive 300 km | 4 h 45 min from
Day 5: Fitzroy Crossing - Drive 438 km | 6 hrs
Day 6: Broome - Drive 400 km - 4.5 hrs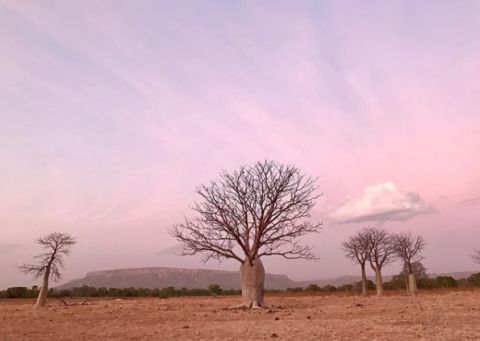 Boab trees near Parry Lagoon. Photo: kimberleyspirittours via IG
Day 1: Kununurra and Lake Argyle
6 hrs from Katherine
3 hrs from Judbarra Gregory National Park
Kununurra is the first town you'll come to upon entering Western Australia from the Northern Territory. It is a green oasis on a river surrounded by the red landscapes of the Kimberley.
Things to do in Kununurra
Take an Ord River boat tour to see the wildlife (from 11.30 am – 5.30 pm $180)
Walk through Mirima National Park (formerly called Hidden Valley National Park) a mini bungle bungles right in the town of Kununurra.
Climb Kelly's Knob for great views (take plenty of water and take your time).
If you'd like to visit the Bungle Bungles in Purnululu National Park, one option is to hire a 4WD from Kununurra, drive down in the morning, spend the afternoon and following morning exploring, then drive back in the afternoon. It's 300 km each way (4 hr 45 mins).
Lake Argyle
lies an hour south of Kununurra.
After so much flat desert you'll be pleased to know that man-made Lake Argyle has hills (The Carr Boyd Ranges), greenery, and water. Lots of water. Lake Argyle covers 1000 km
2
, an area
18 times the size of Sydney Harbour
. At full flood level that area doubles!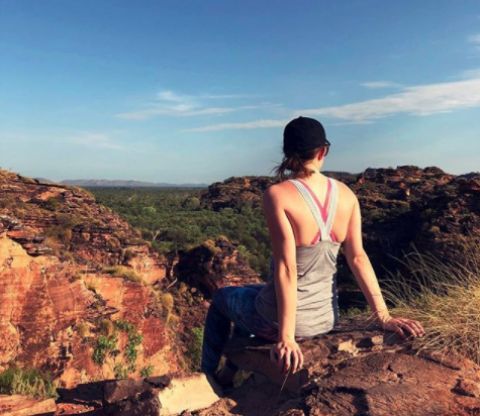 Mirima National Park, Kununurra. Photo: alana.vic via IG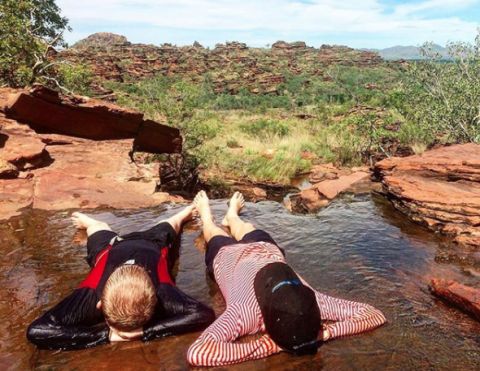 Mirima National park, Kununurra. Photo: irishozy via IG

Mirima National Park, Kununurra. Photo: linc_53 via IG

Mirima National Park, Kununurra. Photo: nicfrazee
Things to do in Lake Argyle
Visit the museum and learn about the creation of the dam and lake
Drive over the dam wall
Visit Homestead Falls
Take a sunset cruise
Swim in the infinity pool ($10 if you are not a guest)
Lake Argyle Camping for Campervans
The Caravan Park at Lake Argyle is also a resort and it has an infinity pool with amazing views over Lake Argyle. There is also a restaurant, bar, shop, bait, tour bookings and fuel.
RATES: $17.50/adult (there are family discounts). $10/adult if you just want to use the infinity pool.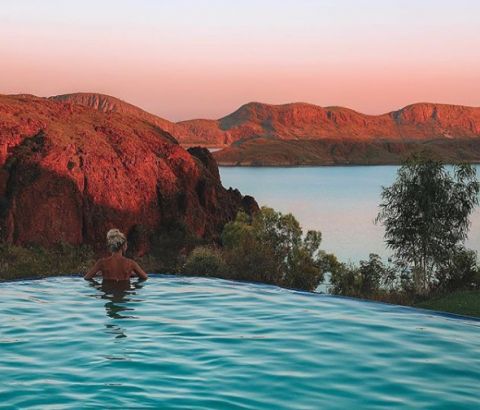 The Infinity Pool. Lake Argyle. Photo: thetravellingnomads via IG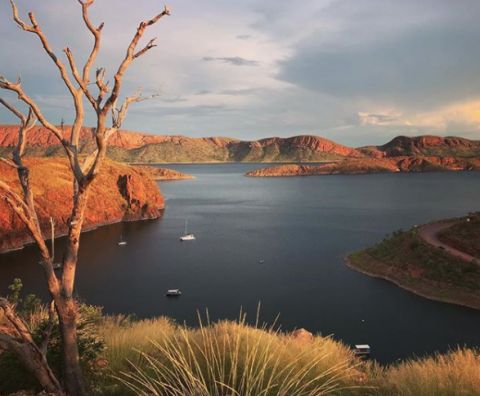 Lake Argyle stormy sunset. Photo: nik taverner via IG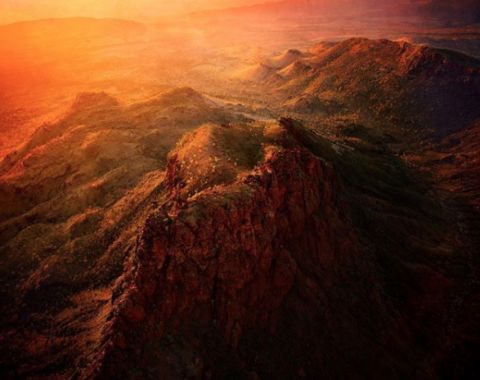 The Carr Boyd Ranges around Lake Argyle. Photo: danproud via IG
DAY 2: Parry Lagoon Nature Reserve
Drive time: 112 km | 1 h 45 mins
Parry Lagoon is 30 mins north of the Victorian Highway along the Great Northern Highway on the way to Wyndham. Look for a blue sign. Stop at the information bay on the way in to get your bearings.
This wetland area is best visited just after the wet season (The wet season is Dec – Mar) but there is water here all year on waterlily studded Marglu Billabong. You'll see a lot of waterbirds such as jabirus, spoonbills, herons, magpie geese, waterfowl, pelicans, egrets, ibis, and more. There are bird hides so you can watch them.
Check out the surreal boab forest at Parry Creek Farm.
Do not swim here and keep away from the waters edge. There are crocodiles.


Parry Creek Farm field of Boabs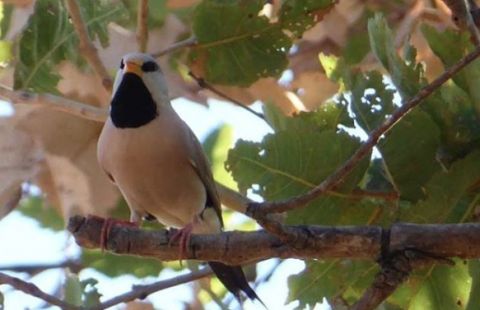 Finch at Parry's Lagoon. Photo: rvtrip via IG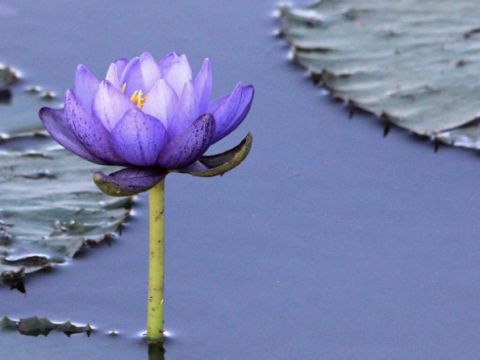 Lily pond at Parry's Lagoon. Photo: petesflap via IG
The Grotto
A little further north, heading toward Wyndham, is the Grotto. It is 2WD accessible but the water dries up in summer so it's best to visit it just after the wet season, such as in April. It is croc-free and safe for swimming.
There are a lot of stairs. Maybe that's what keeps the crocs away. There is a tarzan swing which is fun. Take care of submerged rocks before jumping in from a height.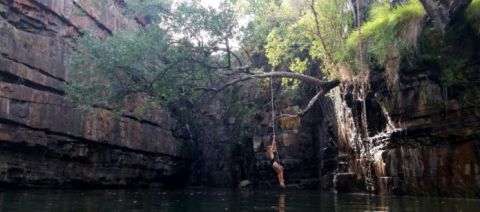 The Grotto: Photo: freshwatereastkimberleyapartments via IG
Wyndham
Wyndham is in two parts; old Wyndham (or Wyndham Port) and Wyndham three Mile (or Wyndham East). Wyndham is the northern most town in Western Australia and is about as isolated as you can get, surrounded by desert and mudflats.
The arrival of the Overland Telegraph Line in 1889 provided the local Aborigines with an excellent source of spearheads because they climbed up the poles and helped themselves to the ceramic insulators.
Population is now 1200 and is partly sustained by tourism.
Things to do in Wyndham
Five Rivers Lookout.

It is signposted from Wyndham Three Mile and you couldn't get a better view unless you actually flew over the region. The five rivers are the Durack, King, and Pentecost to the south, Forrest to the west and Ord to the north.

The Big Crocodile

at the entrance to Wyndham Three Mile. This 20 metre long crocodile is hard to miss. It was designed and built by sculptor Andrew Hickson and the students from the Halls Creek TAFE using steel rods, mesh and concrete.

Wyndham Port

has a few old meatworks buildings and a small display of the trains and cranes which operated on the wharf. The Old Post Office (across the road from the low security prison) is now the Tourist Information Centre and Post Office Museum.

Wyndham Three Mile - At Wyndham Three Mile the local Aboriginal population have constructed enormous statues depicting an Aboriginal family with a dingo and kangaroo (It is a block east of the main street). In the same street is a open air cinema with comfortable deck chairs, a small screen and enclosed projector booth.
The Prison Tree

is on the King River road. It is a hollowed out old baobab tree which was used as a temporary lockup by the local police,
Parry Lagoon Campervan Camping
There is camping at Parry Creek Farm. To get to the campsite, keep driving past the information bay on Parry Creek Road. Facilities include a pool. BBQs, camp kitchen and nature walks.
RATES: Unpowered sites are $15 for up to 8 people.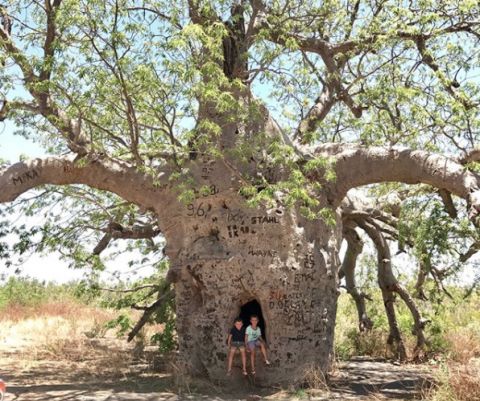 Prison Tree, Wyndham. Photo: ruivencampers via IG
Day 3 & 4: Bungle Bungles, Purnululu
Drive Time: 300 km | 4 hr 45 min
The Purnululu National Park and the Bungle Bungles within the park are accessible only by 4WD due to creek crossings. You have two options:
You can take a full day tour from the Bungle Bungle Caravan Park for $315 per person.
Or you can hire a 4WD vehicle from Kununurra for around $70 per day. Due to the distance from Kununurra, you'll need the car for at least 2 days and will have to overnight in a tent.

After turning off the highway to Purnululu National Park, stop at the information bay to get your bearings. Further along, the Purnululu Visitor Center (Ranger Station) has maps to the walks and nearest lookouts.
Camping near Purnululu
Free Camping - Between Kununurra and Fitzroy Crossing (650 km) there are 5 rest areas where you can camp overnight for free. Just look for the "24hr" blue sign.
Budget Camping - Larrawa Bush Camp isn't free but it has more facilities including hot showers, flushing toilets, internet, BBQs and campfires.
RATES: $10 per person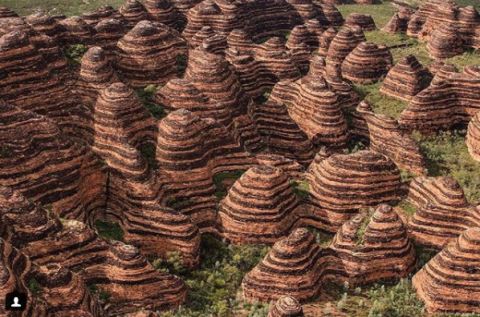 The Bungle Bungles. Photo: seanscottphotography via IG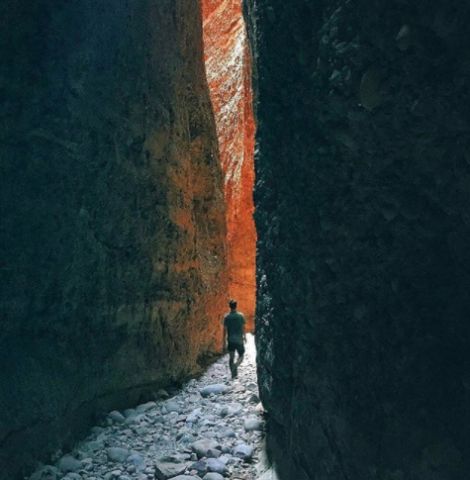 Walking among the Bungle Bungles. Photo: wonderlust.perth via IG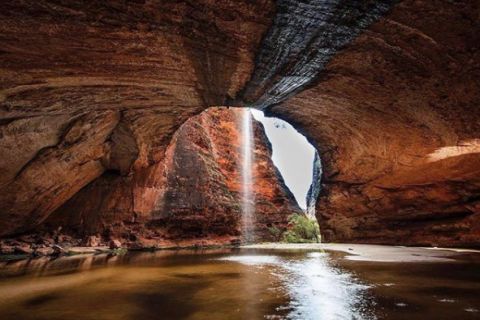 Purnululu National Park. Photo: stonycreekcampers
DAY 5: Mimbi Caves | Fitzroy Crossing
Drive time
: 650 km | 6 hrs 45 mins from Parry Creek Farm
Distances:
Purnululu National Park turn off to Fitzroy Crossing - 400 km (4 hr 10 min)
Kununurra to Fizroy Crossing - 650 km (6 h 45 min)
Parry Creek Farm to Fitzroy Crossing – 650 km (6 hr 45 min)
Mimbi Caves
96 km before you reach Fitzroy Crossing (and 55km after Larrawa Bush Camp) you will see a sign to Mimbi Caves, a series of cave networks carved through the 400 million year old Devonian reef system which includes active growing limestone formations such as shawls and flowstones, some with sparkling crystals.
Book a 3 hour walking tour with Girloorloo Tours a 100% indigenously owned and operated tour company.
RATES: adults $80, kids $40
Mimbi Caves Campervan Camping
There is a campsite at the caves, if you feel like resting up, with swimming holes that are safe for swimming. Facilities include a camp kitchen, toilets, shower and BBQs.
RATES: $14 per person.
Fitzroy Crossing
Fitzroy is a small town with a 24 hr fuel station, shops, a visitor centre and a place to camp in your campervan The main attraction here is Geikie Gorge National Park – a river carved through weathered sandstone cliffs - which lies 20 km north of town on a sealed road. 1 hr boat tours run from May – October.
Fitzroy Campervan Camping
Fitzroy River Lodge has a swimming pool, showers, laundry, tennis, bar and pub food. It has grassy sites under shady trees and friendly staff. The amenities are okay.
RATES: $38 for two people.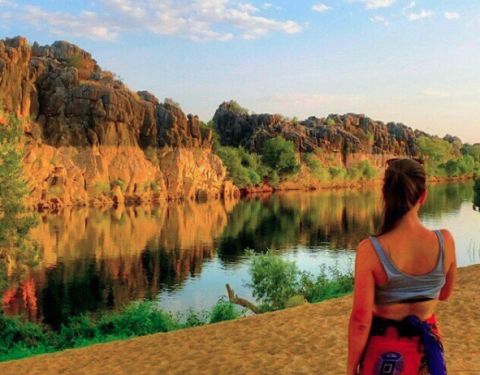 Geikie Gorge, Fitzroy Crossing. Photo: estiezz via IG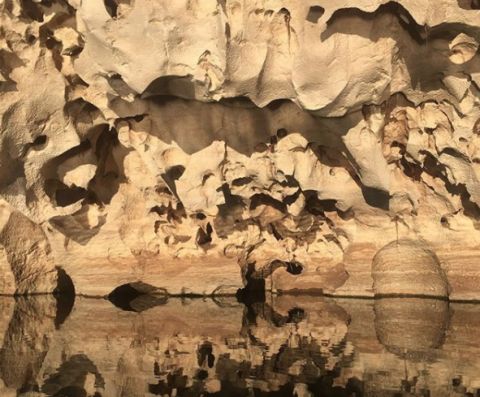 Geikie Gorge at Fitzroy Crossing WA. Photo: louisedavey via IG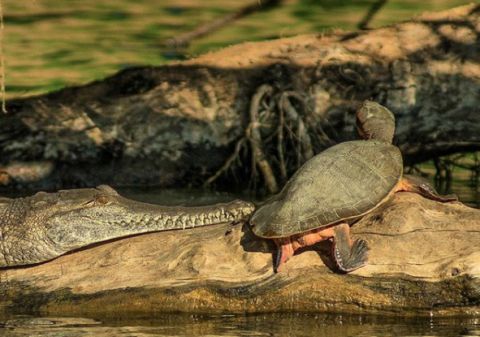 Crocodile and tortoise, Geikie Gorge. Photo: studyabroad biodiversity
Day 6: Broome
From Fitzroy Crossing it is a 4 hour drive to Broome.
Map of the Kimberley Tour
Western Australia Road Trips